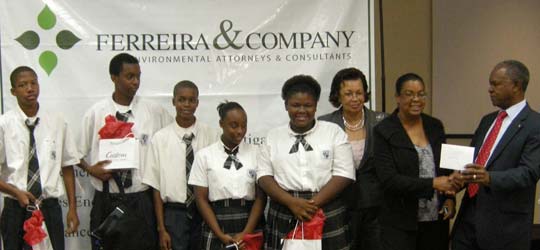 Teams of students from nearly a dozen schools filled the Paul Farquharson Conference Centre for the 1st annual Enviro-Science Competition hosted by Ferreira & Company Environmental Attorneys & Consultants on April 15.
The competition, the brainchild of ecologist and attorney Romauld 'Romi' Ferreira, was designed to inspire high school students to examine environmental issues and provide a platform for offering solutions.
"This is the first year we have attempted anything like this and the response has been overwhelming, absolutely fantastic," said Romi Ferreira, competition founder, managing partner at Ferreira & Company and co-host of the popular morning TV show Bahamas at Sunrise. "Students' efforts demonstrated a clear grasp of the seriousness of environmental issues plaguing our society. And we were amazed by some of the solutions that were not only innovative, but extremely practical."
Students from government and independent high schools were invited to participate in the one day competition and present projects on a number of pre-selected science related themes ranging from recycling plastics and solar energy to assessing the effects of invasive species, mapping our carbon footprint and derelict vehicles.
Minister of the Environment Earl Deveaux attended the ceremony and was congratulatory in his remarks of the young scientists.
The projects were assessed on a number of factors ranging from creativity, content and environmental law analysis to plausible recommendations and solutions. C.V. Bethel students walked away with top prize for their tackling of the theme – Our Footprint on Earth: Issues Relating to the CV Bethel Community. Second place was awarded to C.R. Walker School who exposed the ugliness of the invasion of derelict vehicles, especially in residential areas. Particularly of interest was a jingle written and performed by the group that is being considered by the Ministry of the Environment for use in a nationwide campaign. Aquinas College participants snagged third place for their display of home devices powered by a solar panel mechanism. Other participating schools included Bahamas Academy, St. Anne's School, St. John's College, C.I. Gibson and Kingsway Academy.
Also in attendance was Carlyle Campbell, the recently appointed Junior Partner of Mario Carey, a sponsor of the event. "I was impressed at the level of male participation throughout the event," expressed Campbell. "This goes to show that all is not lost with our young men and I urge them to continue in this vein as they will surely continue to excel if they do."
The judging panel consisted of Eleanor Phillips of the Nature Conservancy, Myles Brennen of the BEST Commission, Dr. Sophia Rolle of the College of The Bahamas School of Sustainability and Yvette Sands of Echo Water a subsidiary of The Source River Ltd. Sponsors of the event included the Royal Bahamas Police Force, Bahamas Foam Products, Custom Computers, Diane Phillips & Associates, Dolphin Encounters, The Source River Ltd, Integrated Building Services, Mario Carey Realty and The Counsellors Ltd. Prizes included iPod Shuffles, jump drives, passes to Dolphin Encounters, school supplies, gift packs and more.
"The talent displayed by these students was inspiring," Ferreira said. "This year's response has been so encouraging that we look forward to this becoming an annual event and hope to bring on m ore schools and sponsors in 2012."
Diane Phillips & Associates