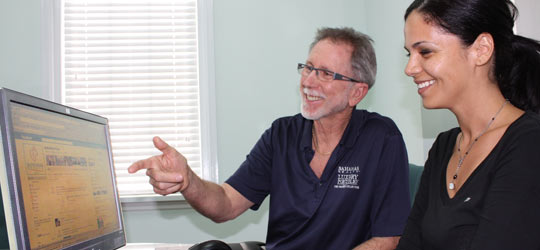 When Bahamas Realty sales associate Monica Knowles receives information on a new property for sale, she uploads pictures, updates a Facebook status and sends out a tweet. It's a social media routine that has become natural for Knowles and the Bahamas Realty team who incorporate blogging, Facebook updating, Linked-in networking and Twitter as core parts of their business.
And it's working.
Six months ago the award-winning real estate company had 400 Facebook fans. Today the fan base numbers more than 2000 and the 'Likes' have turned into sales for the company.
Shopping for real estate online is so pervasive that experts in the U.S. and locally estimate four out of every five transactions start with an online look.
"I typically search for properties online and use Facebook frequently," says Ancilleno Davis, a first time homebuyer. "I'm a fan of the Bahamas Realty page and one day a listing popped up that really caught my attention. I made immediate contact online with an agent. It was so easy to use."
"We've been able to expand our marketing reach and increase our accessibility through social media and we're seeing real benefits," says Knowles. "With an extensive online presence, we bring listings to market daily and utilize the strengths of various networks for specific needs."
Catering to the differences in social media is critical or as Knowles puts it, "You don't use LinkedIn the way you use Facebook."
For LinkedIn, Bahamas Realty relies heavily on referrals through agents, corporate business and other professionals. Often, the company is sought out by its profile to provide local living accommodations for international corporations.
In addition to property listings, Bahamas Realty uploads clips of its TV show, Bahamas Realty Now, to the company's YouTube channel which is then linked to all of its other networking sites. The show gives an insider's view of listed homes and tips on everything from staging to gardening.
Like buyers, sellers are benefiting from Bahamas Realty's recognition of the power of the new media.
"I'm not a social media person in general but the targeted campaign Bahamas Realty organized to promote my property generated positive results," noted one seller who received two offers within days of listing. The offer started with an online viewing.
"Our goal is to appeal to both buyers and sellers through our online channels," said Bahamas Realty CEO Larry Roberts. "It's interaction at its best and we hope to use it in the industry in a way that ensures clients benefit by getting the most information about the listing, about the country, about the costs of buying and selling, and they get it in the most efficient delivery system."
Bahamas Realty was recently named the Top International Luxury Brokerage by Luxury Portfolio International. The award is presented to the firm based outside the US that epitomises the quality, strength and luxury market expertise synonymous with the Luxury Portfolio brand. Bahamas Realty also walked away with top honours for its branding of Luxury Properties.
Diane Phillips & Associates