Royal Wedding Stamps Issued
June 27, 2011
Nassau, The Bahamas – The Bahamas Postal Service this week issued a set of three commemorative postage stamps highlighting the Royal Wedding of Prince William and Catherine Middleton on April 29, 2011.
The stamps are valued at 15 cents, 50 cents, and 65 cents. The 15 cent value shows William and Kate in September 2008 attending the wedding of a friend in Austria together.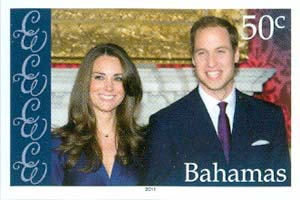 The 50 cent value shows the couple in the State Rooms, St. James' Place, London following the announcement of their engagement.
The 65 cent value shows the couple on the balcony of Buckingham Palace sharing their now famous kiss as a married couple to the delight of the crowds gathered in front of the Palace.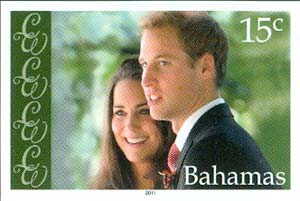 The Post Office has also released a souvenir sheet with a $5 stamp showing the couple as they left Westminster Abbey, after the ceremony, as The Duke and Duchess of Cambridge. The background of the souvenir sheet shows Westminster Abbey during the wedding ceremony.
On November 16th, 2010 an announcement was made by Clarence House that confirmed that Prince William, oldest son of Prince Charles, the Prince of Wales had become engaged to his long time girlfriend Catherine Middleton.
William and Catherine were both 28 years old when the announcement was made and met while students at the University of St. Andrews.
As second in line to the British Throne and eldest son of Prince Charles and the late Diana, Princess of Wales, this wedding attracted significant interest throughout the world.
The wedding was held at Westminster Abbey, site of many royal events and was viewed by an estimated audience of two billion people worldwide.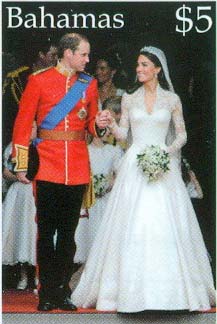 The Bahamas celebrated the Royal Wedding with the British Monarch's representative His Excellency Sir Arthur Foulkes, Governor-General and Lady Foulkes along with Prime Minister  Hubert Ingraham and Mrs. Deloris Ingraham travelling to London to attend the wedding.
As part of the celebrations, the Bahamas Ministry of Tourism invited guests to the islands to celebrate the Royal Wedding at a Tea Party at Government House (the official home of the British Monarch's representative in The Bahamas).
By Bahamas Information Services