Mario Carey Realty Expands Into Bimini and Abaco
July 26, 2011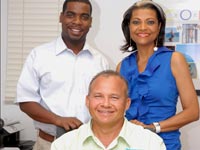 Three years after broker Mario Carey opened the doors of his real estate firm during the height of what many called the lowest point in the industry's history, the veteran super salesman is on the grow again.
"We've expanded from a tiny office with three people to a staff of 11 brokers, associates and support personnel and we've just welcomed agents in Bimini and Abaco," said Carey, who holds the designations of CIPS, CRS and CLHMS signifying advanced formal study and achievement in high sales volume. "But even as we celebrate that growth, we are being very cautious. The market has not yet fully rebounded and it continues to keep all of us on our toes."
Still, whatever the market is experiencing, Carey's firm, Mario Carey Realty, has uncovered enough of a secret to need to move from its East Bay Street office to larger headquarters. He says the team approach and diversity have been keys to strength in a soft economy.
"If you compare our company profile to others, it looks very different, and I think that's one of the reasons we have been able to appeal to such a wide cross-section of the population," says Carey. "We have a team of young professionals of different ethnic backgrounds, heritage, genders, race and civil affiliations, a true representation of the Bahamian people."
Carey stresses the youthfulness of the firm and calls himself, at 46, "the old man of the company." To keep in shape, he bikes up to 50 miles regularly, works out, runs marathons, swims and participates in grueling triathlons, partly for the exercise and partly to raise money for autism. He serves as president of R.E.A.C.H., the autism support group. He also plays golf but that's to relax.
"It's a tough business and a tough world out there and you have to be fit to succeed, fit in your business and fit in your physical and your mental state," says Carey, who is among the 3% of Realtors worldwide to hold a B.S. in Real Estate.
"I'm also very fortunate to have a great junior partner in Carlyle Campbell, who is highly qualified and motivated in sales and appraisals, holds advanced certification and supports all the civic engagements the firm is involved in from R.E.A.C.H. to the MCR Blood Drive and our mentorship programs."
The entire team is impressive, he says, pointing to Ryan Knowles, who is "bilingual and teaches tennis as well as being a top real estate salesman," and to newcomers in Abaco, Shoine and Terrance Strachan, pastor of Lifegate Christian Ministries, and in Bimini, Sheldon Pitt, who practiced real estate in Canada and whose hobbies of farming and scuba diving are "perfectly suited for his new environment in Bimini."
Other team members include sales associates Sidney Bethell, Matt Sweeting and Lamond Davis. "Matt, Sidney and Lamond each has unique strengths. They care, they work hard and they form an important part of the MCR2 Division specializing in the starter home market."
Sharon E. Smith-Ferguson was also recently appointed Office/Operations Manager. Smith-Ferguson has had experience in Nassau, Grand Bahama and Palm Beach in the hospitality and non-profit sectors.
"We are in a very good place three years after we opened our doors at a very shaky time in the market," Carey said. "Now we just have to proceed with caution and the same enthusiasm that got us where we are today, being team-inspired and service driven."