Baha Mar Praises Bahamas Striping
November 18, 2011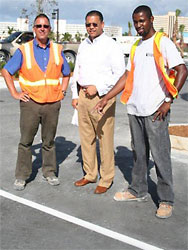 Having completed the car park striping at Baha Mar Development's Commercial Village, Bahamas Striping's president, Atario Mitchell praised Baha Mar and local contractor Bahamas Hot Mix for giving his growing company the lion's share of the work that would have in previous years typically gone to foreigners.
On an inspection tour with Bah Mar's Senior Vice President Robert "Sandy" Sands and Bahamas Hot Mix's Senior Project Engineer, Paul Huckle, Mitchell thanked the two companies for their youth-friendly and local-preference policies.
Mr. Sands said, "It was pleasure driving round with Mr. Mitchell seeing what this young man has done. When he said he was a young entrepreneur, I wasn't expecting him to be that young – and yet I'm impressed as to the quality of what he and his crew are producing. I'm pleased with the quality and the progress all-round. "
"Baha Mar is a multi-million dollar investment in the future of our country and it's our policy to hire local talent when they can meet the required standards. Mitchell has clearly shown that he can do good work. Baha Mar wants to invest in our youth and this is a shining example of what our youth are capable of. Hard work and giving detailed, quality service always pays dividends," said Sands.
"From what I can see, there's every reason to believe he'll go far. I wouldn't be surprised if Bahamas Striping isn't the pre-dominant striping company in the country very soon. That's a great achievement for a 17-month old company. We wish Atario and his Self Starter company the best and look forward to him working on the other Baha Mar phases down the line," said Sands.
Bahamas Striping was awarded 80 percent of Baha Mar's striping work on the advice of the "above ground" contractors, Bahamas Hot Mix. Mitchell praised the company for facilitating his contracts for the new Commercial Center, now home to Fidelity Bank, Commonwealth Bank, ScotiaBank, and the new fire station.
Bahamas Hot Mix and Baha Mar gave the project to Mitchell after he made a case about supporting Bahamian youth and local companies when his capability could be proved. In turn, Bahamas Hot Mix and Baha Mar mandated the need for his company to produce excellent work. Mitchell was up to the challenge, said Sands.
Mitchell expressed his pride to be working on the spectacular development.
"Me and my young team are extremely excited to work on this amazing project. It's going to transform Cable Beach into one of the world's greatest tourism attractions," said Mitchell. "We'll be looking back at this project with enormous pride for years. And we thank Bahamas Hot Mix and Baha Mar for that. Both these forward-looking companies, supported not only a local Bahamian company, but also  Bahamian youth. It is a great compliment to have that trust placed in you. We're extremely grateful."
For the 17-month old road marking company, the Baha Mar work will be ongoing as new parts are completed. The team is now striping the Sheraton Nassau Beach's new car park. Mitchell, who started striping with his uncle as a teenager in Grand Bahama could not at the time imagine how his dream of his own striping company would become real and so successful so fast.
"Being chosen to work on Baha Mar is a major achievement," said Mitchell. "I'm very fortunate to have clients who care about the community and who want to see the young locals succeed. Hot Mix and Baha Mar are giving young people jobs and a chance to go for the big prize, to show what they can attain. It's very encouraging. My crew are energized and inspired. This empowers them to lead the good life, work hard and plan for their future. And just to imagine… two years ago most of this work would have gone to a foreign multi-national company."
"It's taken hard work and discipline to get this far," said Mitchell. "We've all sacrificed "normal life" with constant late night meetings and doing paperwork and letters on the weekends. You always have the urge to go and spend but instead we reinvested in the company. We got a good equipment and, what's also important is that we brought in an expert from the UK to train the rest of the crew." Bahamas Striping's senior striper and trainer is Brian Bostock from Liverpool.
One of Bahamas Striping's crew is 25-year old Triston Johnson, who recently graduated from the government's National Job & Skills Training Program, another government initiative that Mitchell lauded.