Church Elder Sentenced to Life in Prison for Child Abuse
November 23, 2011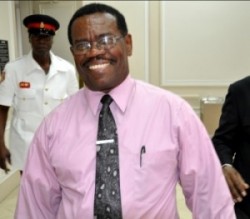 In a rare case of justice in The Bahamas, convicted child abuser Albert Alexander Whyley, 60, was sentenced to life in prison for raping a nine-year-old girl at his home in February.
At his sentencing yesterday, senior Supreme Court Justice Hartman Longley listened to testimony from  from a psychiatrist and psychologist who said that Whyley admitted to having sexual urges for children.
Psychiatrist Dr John Dillet, a psychiatrist at Sandilands Rehabilitative Centre, testified that it is 100 per cent possible Whyley would re-offend.
After an evaluation of Whyley, Dr Dillet reported that the sexual predator showed no signs of psychiatric illness and fit the criteria for paedophilia – a disorder involving sexual fantasies of children.
Judge Longley also heard testimony from probation officer Andy Laing who said Whyley initially denied the offence but later recanted his denial and admitted his guilt. In an attempt to get sympathy from the judge, Whyley pretended to show remorse for what he had done.  He also said he was apologetic for wasting the court's time and that he wanted to apologise to the victim and her mother for the pain he has caused them.
However, Dr Rochelle Basden, another psychologist at Sandilands, said she also believed that Whyley would re-offend if given the opportunity.
She felt that, despite Whyley's admission of guilt, he was not truly remorseful.
"He felt bad about what happened to the victim, but, was mainly concerned about being referred to as a pastor and the negative attention to the church," Basden said.
Meanwhile, the victim's mother feels that Whyley is "a deceitful old man who deserved to die in jail".
This was Whyley's second conviction for raping children. In 1993, the pervert pastor was found guilty of having unlawful sex with a 14-year-old and sentenced to 14 years in prison.
However, the dysfunctional and overly-lenient Court of Appeal released Whyley from prison only four years later.
This time around, Whyley was charged and convicted in September of having sex with the nine-year old girl, who had been dropped off at the pastor's house in February.  Whyley was supposed to babysit the girl, instead, he raped her.
Whyley was a former police officer of six years. The Bahamas police force has a huge problem with child rapists.  Over a dozen officers have been accused of child molestation in the past five years.  But the thin blue line has meant that none have ever been convicted.
Whyley, a church elder, is the father of 11 children from various women, three from his present wife of 28 years.
Probation officer Laing said Whyley's wife knew of her husband's past offence but was shocked to learn of the new incident.  She did not feel that a prison sentence was in Whyley's best interest.
Whyley's lawyer, Carlson Shurland, also believed that Whyley should not go to prison, because he would not be able to get treatment for his condition at Her Majesty's Prison and prison would prevent Whyley from traveling abroad for treatment.
The prosecution recommended a 20-25 year custodial sentence, but Justice Longley wisely imposed life imprisonment.
The judge also ordered Whyley to receive whatever treatment is available for his condition during his time in prison.