Rum Diary, Breakaway Bookend Bahamas Film Fest
November 18, 2011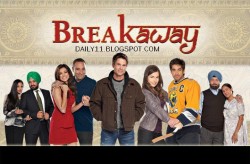 The festival will end with the sports drama Breakaway starring Rob Lowe.
Festival founder and executive director Leslie Vanderpool unveiled the roster of films set to compete in the competition categories of Spirit Of Freedom: Narrative, documentary, New Visions, First Look and shorts as well as Caribbean and environment sidebars and a World Cinema showcase.
Entries include Toniko Melo's VIPS from Brazil, Jerry Rothwell's US documentary Donor Unknown, Michael Rymer's Face To Face from Australia, Alma Har'el's Bombay Beach, California from the US and Asif Kapadia's UK documentary Senna.
David Cronenberg's A Dangerous Method is a special screening alongside the opening and closing night films.
As previously announced Zoe Isabella Kravitz will receive BIFF's signature Rising Star Tribute on Dec 2, while the Filmmaker's Residency Program returns for the second year.
For further details visit the official website.
By:  Jeremy Kay
Source:  Screen Daily