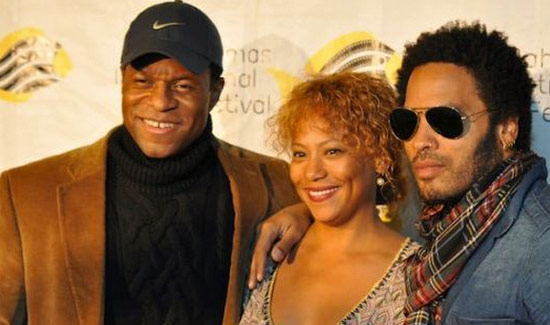 Festival Founder and Executive Director Leslie Vanderpool announced the final program details for the 11th edition of the Bahamas International Film Festival (BIFF), which takes place December 4-9, 2014 in Nassau and December 10-14, in Harbour Island, Eleuthera.
This year, the Festival will showcase 95 films from 30 different countries, including 48 features and 47 short films of which several are international premieres and all are Bahamian premieres.
"LIKE SUNDAY LIKE RAIN" starring, Starring Leighton Meester (Gossip Girls) and Debra Messing (Will And Grace) and Billy Joe Armstrong, will open the festival with a red carpet screening at the Atlantis Resort on Paradise Island on Thursday, December 4th. American Comedy "BIG IN JAPAN" starring Phillip Peterson, Sean Lowry, David Drury, Alex Vincent, Adam Powers as Mans will close the festival with an evening screening on Sunday, December 7th – also at the Atlantis Theater.
The four competition categories at BIFF are Spirit of Freedom: Narrative & Documentary; New Visions; and Short Film. Special sections include Caribbean Spotlight and World Cinema as well as Special Screenings. BIFF will begin with LIKE SUNDAY LIKE RAIN, ending with a triplet of 3 band members called BIG IN JAPAN.
The official BIFF lineup is comprised of the following films:
SPIRIT OF FREEDOM (NARRATIVE)
Come to my voice  (Turkey) Director: Ray Meirovitz
The Gift, An Bronntanas (Ireland) Director: Tom Collins
Four Corners (South Africa) Director: Ian Gabriel
Lake Los Angeles (US) Director: Mike Ott
Sombras De Azul (Mexico/Cuba) Director: Travis Pittman
Tu Seras Un Homme (France) Director: Benoit Cohen
Wheels (US) Director: Donavon Thomas
Love Me "Mehe"(Turkey/Ukraine) Director: Maryna Er Gorbach & Mehmet Bahadir
SPIRIT OF FREEDOM (DOCUMENTARY)
Chimeras (China) Director: Mika Mattila
Mala Mala (USA) Director: Dan Sickles
N'Kisi Concorde (USA) Director: Nikki Sass
Obama Mama (USA) Director: Vivian Norris
Poverty Inc. (USA) Director: Mark Weber
Spit' in Anger: Venom Of a Fatherless Son (USA) Director: Kenneth Braswell
Surviving Cliff Side (USA) Director: John Matthews
Vessel (USA) Director: Diana Whitten
NEW VISIONS
Beti and Amare (Ethiopia. Spain Canada, Germany, Romania USA) Andy Siege
Battered (USA) Director: Robert Madero
Copenhagen (USA) Director: Mark Raso
Cru (USA) Director: Alton Glass
Five Star (USA) Director: Luisa Conlon
Lawrence & Holloman – (Canada) Director: Matthew Kowalchuk
Leave To Remain (UK) Director: Bruce Goodison
Marussia (USA / France) Director: Eva Pervolvici
Mom Murder and Me (USA) Director: Heather Donnell
Still (UK) Director: Simon Blake
Sun Belt Express (USA) Director:  Evan Buxbaum
The Boys Castaway (Australia) Director: Michael Kantor
CARIBBEAN SPOTLIGHT
Abo So (Aruba) Director: Juan Francisco
De Pez En Cuando (Dominican Republic) Director: Francisco Adolfo Valdez
Ring Di Alarm (Jamaica) Director: Storm Saulter, Michelle Serieux
The Current (Bahamas, Mexico Tonga, USA) Director: Kurt Miller, Hans Rosenwinkel
You Have His Eyes (US/Jamaica) Director: Chris Wilson
SPECIAL SCREENING
Like Sunday Like Rain (USA) Director: Frank Whaley
Night Of The Living Dead (USA) Director: Zebediah De Soto
WORLD CINEMA
Boundaries Of The Heart (China)
Free Fall (USA)
I Believe In Unicorns (USA) Director: Leah Meyerhoff
Sleepwalkers (USA) Director: Ryan Lightbourn)
Jingle Bell Rocks!! (USA) Director: Michael Kezin
Art Of Darkness (Canada) Director: David Parker
The Barefoot Bandit (USA, Bahamas) Director: Carly Bodmer
Oil & Water (USA) Director: Francine Strickwerda & Laurel Spellman Smith
Sand Wars (USA) Director: Denis Delestrac
Ice Bear (UK, Canada) Director: Oliver Parker
The Widowers (USA) Director: Katie Irish
Under the Same Sun (Israel) Director: Yelena Gyulkhanda
SHORT FILMS
37/0 4 S (France) Director: Adriano Valerio
A Spring Has Passed By (Syria) Director: Eva Daoud
Animal Cookies (USA) Director: Matthew Temple
Bis Gleich (Till Then) Director: Benjamin Wolff
Bodies Of Irreversible Detriment (USA) Director: Ben Lazarus
Butterfly Fluttering (Russia) Director: Roman Kayumov
Choongshim, Soso (Korea) Director:  Kim Jung in
Con Quein Suena Berta (Spain) Director:  Francisco Javier Gomez Pinteno
Danny And The Wild Bunch –(USA) Director: Robert Rugan
Distance (US/ Spain) Director: Danny Langa
Dove On The Roof   Голубь на крыше (Kazakhstan) Director: Olga Korotko
El Bostan El Saeed Street (Egypt) Director: Maysoon El Massry
El Tiempo Del Agua (Argent
na, Canada) Director: Shahriar Adham El Kosht
En Las Nubes (In The Clouds) (Argentina) Director: Marcelo Mitnik
Festus (USA) Director: Shawn Snyder
Frank and Azalee Austin (USA) Director: Zachary Kerschberg
Forget Me Not (USA) Director: Christopher McKee
Helium (Denmark) Director: Andres Walter
Hotel Y (Argentina) Director: Geraldine Baron Visher
I Know You (Italy, UK) Director:  Colin Gerrard
I'm In The Corner With Bluebells (UK) Ako Mitchell
Idyllwild 牧歌 (China) Director: Zenas Cao, Aisha Porter-Christie
Indian Summer (UK) Director: Toby Lomas
Into The Silent Sea  (USA) Director: Andrej Landin
La Donna (Spain) Director: Nicolas Dolensky
La Gallina (Spain) Director: Manel Raga
Last Days Of Summer (Netherlands) Director: Feike Santbergen
Le Train Bleu (France) Director: Stephanie Assimacopoulo
Leave Keys In Car (USA) Director: Tessa Blake
Long Con (USA) Director: Kreimild Saunders
Love Me Haiti (Haiti, Poland, Sweden, USA) Director: Hugues Gentillion
Man Since Long Time (Egypt) Director: Mahmoud Yossry
Mr. Invisible (UK) Director: Greg Ash
Muted (USA) Director: Rachel Goldberg
One Armed Man (USA) Director: Tim Guinee
One night Only (USA) Direcor: Che Grant
Perfect day (USA) Director: Derrick L. Sanders
Salvatore (USA) Director: William Shermer
Second Act (USA) Director: Francesca De Sola
Somos Amigos (Spain) Director: Carlos Solano Perez
The Smut Locker (USA) Director: Harry Tarre
Tobacco Burn (USA) Director: Justin Liberman
Tribute (USA) Director: Neil Evans
Washingtonia (Greece) Director: Konstantina Kotzamani
When Pigs Swim (Bahamas) Director: Charlie Smith
Where Do We Go From Here (USA) Director: Matthew Szewczyk
The festival is proud to announce the return of the Filmmaker's Residency Program. For the tenth year BIFF has broadened the program to include filmmakers from around the world to submit screenplays that are based in The Bahamas or Caribbean region. The Filmmakers' Residency Program nurtures screenwriters by providing them with an unrivaled opportunity to spend a week with accomplished professionals who make a living working in the industry from Los Angeles and New York. This year's program will be held in Harbour Island, Eleuthera, December 10 – 14, 2014
Filmmaker Residency Program Selection
Bioterror Conspiracy, written by: Louis Lio
A beautiful Navy SEAL must stop a Naval Officer from making lethal a biological weapon. Sex, murder, and espionage mix with science, history and post 9-11 politics, in an odyssey with symbolism and trivia, flashes of humor, and a noble dream. Long after the Bay of Pigs Invasion, there's specter of another Cuban Missile Crisis, this time biological. The story is fiction, but the science, medicine, Navy operations, history and politics, is real.
Explorers, written by: Christopher Andre
Earth's survivors have been forced to go deep underground to reboot society. With resources running out and totalitarian rule building great discontent, A group of young criminals are tasked to explore the Earth's surface to seek out resources. What they find up above is far more frightening than anything they could have imagined.
Last Ones Left, written by: Oliver W. Ottley
Where survival of the fittest is code, four best friends get caught up in a whirlwind of unforeseeable danger, and are put to the test when the vicious street laws they're governed by threaten to claim their lives.
About the Opening and Closing Night Films:
LIKE SUNDAY LIKE RAIN, directed by Frank Whaley, tells the story of Reggie, a 12 year old rich  prodigy who lives in a castle in New York, surrounded by wealth but  living a lonely life as his parents are frequently absent. Eleanor is a young musician going through the pains of growing up, who is having  problems with her boyfriend and was recently fired from her job. Making  matters worse, she finds herself with no place to live and far from her  unsupportive family. In a desperate attempt to find a new job, she finds  herself at the home of Barbara, Reggie's mom, and is hired to take care  of the young boy. She is surprised by Reggie's intelligence and street  smarts but is worried about his odd behavior of avoiding riding in cars, skipping summer camp and only having one friend, Raj. Little by little  they both learn about each other lives until an emergency forces Eleanor  to visit her family in Upstate New York. After unsuccessfully trying to  find a replacement, she takes Reggie with her where he is exposed to a  whole different world. This is a beautiful story about discovery and  acceptance.
BIG IN JAPAN, directed by John Jeffcoat, Things are looking bleak for the members of rock band Tennis Pro. They've been struggling to connect to an audience in the Seattle music scene, with a recent run of shows drawing sparse crowds and uninspiring day jobs that are quickly eclipsing their dreams.   So when an opportunity arises to take their act on the road to Japan – where the allure of a second chance at recognition awaits them – they can't refuse.   Embarking on their Tokyo musical odyssey, the guys experience all the thrills and setbacks of taking their music into unknown territory (at least to them) and in the process learn a thing or two about themselves. It's just possible they won't fade away.
BIFF Goes Island Hopping with the BIFF Best of Fest Eleuthera, December 10 – 14 2014: The Best of the Bahamas International Film Festival (BIFF) goes island hopping to Harbour Island December 10 – 14 2012 and will be open to the public. Hotel Partners Pink Sands, Valentines Resort, The Landings Hotel and many more.
About the Bahamas International Film Festival
The Bahamas International Film Festival (BIFF) is a nonprofit organization committed to providing the local community and international festivalgoers with a diverse presentation of films from the Bahamas and around the world. In addition to showcasing films that might not otherwise be released theatrically, BIFF provides unique cultural experiences, educational programs, and forums for exploring the past, present and future of cinema. BIFF aims to raise the level of filmmaking, participation and education throughout the Bahamas and the world. For more information visit www.bintlfilmfest.com or call 242-698-1800
BIFF 2014 begins Thursday, December 4th in Nassau and runs through Tuesday, December 9th and for the third time expands to Harbour Island "Island Hopping" December 10 – 14. For additional information please visit our website www.bintlfilmfest.com.
BIFF 2014 Sponsors:
Atlantis, RBC Royal Bank, Jet Blue Airways, Copa Airlines, Galleria Cinemas, Bahamas Waterfront Realty, Ministry Of Tourism, US Embassy, Bahamas Ferries, Nassau Paradise Island Promotion Board, Bahamas Air, Majestic Tours, The Sign Post, Lilo Studios, Master Technicians, Bahamian Brewery and Beverage Co., Jimmy's Wines & Spirits, Kendall Jackson Wines, Bacardi Store, 1er Cru, The Bahamas Weekly, Southern Air, A Stones Throw Away, Pink Sands Resort, Valentines Resort, The Landings Hotel, Big Heart, FilmFestivals.com and many more. Among the Friends of the Festival are: Dr. & Mrs. Vanderpool, Glinton, Sweeting, O'Brien, Chinese Embassy Of The Bahamas, Banca del Sempione, SA, Bahamas Air, Avis Rental Car.