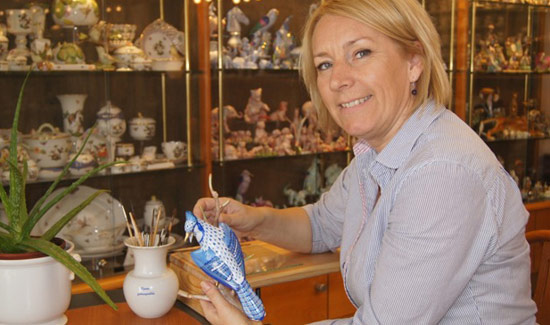 Add value and luxury to your Christmas shopping with precious Herend China signed by leading Herend Artist Marianna Steigervald, Nov. 20 and 21, at Kelly's House and Home, Mall at Marathon, Nassau.
From 10 a.m. To 6 p.m. each day, the artist will sign Herend merchandise and demonstrate the techniques which have made the premier Hungarian porcelain line famous almost since its founding in 1826.  "You may even bring pieces you purchased earlier for her to sign if you wish," advises Ms. Beverley Maycock, Head of Kelly's Bridal Department.
As a result of being entirely hand made, none of the Herend patterns is ever obsolete or out of production, explains Mrs. Nancy B. Kelly, President of the nation's largest department store, Kelly's House and Home. "You can still order a replacement for your great-grandmother's wedding china or tea pot," she says.
Herend is collected by generations of Bahamians.
Artist Marianna Steigervald literally grew up in Herend. Born in Veszprem in 1970, she attended primary school in Herend and grew up in a little village right next to Herend. Interested in painting and drawing from childhood, it was natural for her to "seek admittance to the Vocational Secondary School of  the Herend Manufactory where I could learn  porcelain painting."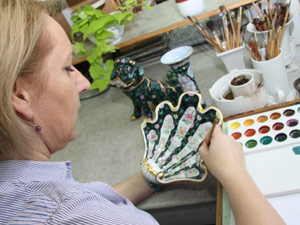 Interested in the origins or Porcelain production, she specialized in the oriental patterns and "Painted these wonderful motifs for 18 years." She also demonstrated to visitors how the unique pieces were painted, foreshadowing her current career. She lived in Ireland briefly, learned English and returned to Budapest, resuming her work with Herend as a sales assistant in the "beautiful medieval setting of the Castle District.
"I still enjoy painting very much, and I also enjoy my new work…especially when I discovered a tea-cup that I had painted some years ago on the shelves of our shop…and sold it.  It was an American lady looking at it, but when I told her that I painted it, she was very moved and bought it right the way, saying she will take care of it well… I remember it to this day with pleasure."
In her free time Marianna enjoys travelling, music, photography, drawing with her daughter and motorbike riding with her boyfriend around Europe.  "Our dream is that one day we will ride on the famous Route 66 in America," she says.
As Kelly's stocks nearly a dozen of the most popular Herend patterns including: "Queen Victoria," "Rothschild Birds," "Golden Edge" and "Chinese Bouquet" in green, rust and blue, you may find your own pattern in stock, painted by Marianna and waiting to be signed, just for you.     Other patterns may be ordered at Kelly's with delivery taking about four months.
Herend produces table services for kings and queens and has often named patterns after the famous person for whom it was designed, such as "Queen Victoria". The monarch ordered a service decorated with flowers and butterflies at the Great Exhibition in London's Crystal Palace in 1851.Showing a Chinese influence, it is one of Herend's most popular designs to this day.
Herend Master Painter Attila Keczer, who launched the Herend line at Kelly's in 2008, explained his art: "Every petal, each fish scale is painted by hand. Every piece is entirely hand made."
The artists use a steel pen to draw the outlines of flowers and the "scales" which are signature looks on Herend figurines. Colours are laid on in a slight relief. Some pieces require many firings.
The Herend Collection is so vast it would fill the whole of the huge Kelly's store, Mr. Keczer explained, with 15,000 shapes, 3,000 patterns and 1,000 colour variations.
During the Kelly's Herend launch an elite group of shoppers enjoyed watching the Master Painter at work. He signed the pieces purchased with special messages. Christening gifts and a large variety of rabbits and bunnies in all sizes were especially popular this Easter Week. Three generations of the Laddie Gates family attended. Granddaughters Bianca and Ashleigh have been collectors since early childhood.
According to Herend publications, Herend is considered to have begun in 1826 with a small factory founded in Herend by Vince Stingl who had experience as Tata Stoneware factory's production manger. In addition to making stoneware, he repeatedly attempted to make high quality porcelain, which drove him to the edge of bankruptcy.
Mor Fisher, a creditor, received the workshop in 1839, opening an expansive period in Herend's history. Continuing the experiments, he modernized, developing a manufactory capable of industrial production and created ever more exquisite products. By 1842 he had earned the title of "porcelain factory by imperial royal privilege" and the right to use the arms of Hungary as a mark.
A serious fire in 1843 couldn't stop Fischer from contributing to the Second Industrial Exhibition where he won the gold medal. After the fire, he stopped making ordinary wares which could no longer compete with cheap imports.
His new wares imitated the famous European products such as Sevres, Capodimonte and Meissen. especially items no longer made. He could fill a niche for the rare and beautiful, but readily marketable, for which there was no competitor.
Herend's golden age was 1851-1873, starting with the Great Exhibition in London, establishing the company's reputation abroad. Part of this success came from Fischer's success in imitating Chinese Porcelain, begun in 1846. In the 19th Century Herend Porcelain is unequalled for the many ways in which Fischer reworked Oriental porcelain
He won a prize at the International Industrial Exhibition in New York in 1853, then sold out all stock in one day.
But problems returned in Hungary as the upper middle class was not inclined to support domestic wares while the lower classes bought inexpensive Viennese or Bohemian wares. Herend needed new markets as it went for a second world exposition, this time in 1855 in Paris where its Chinoiserie again received a top award.
There is still a strong demand for the patterns created at that time, including "Victoria." The 1867 Paris World Exposition brought more success and an increase in business by more than 80,000 times. Francis Joseph made Fischer a member of the Hungarian nobility.
Fisher increased the roles of his sons at the factory with 83 employees, 23 of them painters.
Now the company has about 1,700 people, 630 of them painters, but only 20 of them Master Painters like Attila.
In 1884 the Fischer sons sold the manufactory to the state… with the Herend Porcelain Factory Ltd. founded by the state, salvaging the expertise of the Herend workers. Modernization began with more efforts at cheaper stoneware leading again to near insolvency. The United Hungarian Glassworks Co. Ltd. bought it and took it to near bankruptcy closing its gates briefly in 1896.
But, in the same year, Mor Fischer, a grandson of the founder, acquired it and returned to the artistic standards which have always been Herend's strength. At first he produced only to order, using the oldest forms. New lines unveiled at the Paris world Exposition of 1900 brought great success and orders. Herend won a gold medal at the St. Louis Fair and World Exhibition of 1904.
World War I reduced output drastically with most of the workers called up. There was very little firing in the kilns until 1920. By 1923, the factory was again a joint-stock company. Worker housing helped bring skilled workers back to Herend and a school for apprentices reorganized. It produced 44 new qualified painters and throwers each year.
It was a new world, however, so approaches went to middle class customers instead of the nobility. Unable to pay for full services, the middle class loved smaller figures and plaques for home decoration leading the company into the production of sculptures in 1930. Most of the top Hungarian artists of the time participated, making Herend a success again.
Even through the Second World War, the factory remained active, but
also produced insulators, laboratory and pharmaceutical equipment until 1944.
Post war was extremely difficult for the company with a shortage of labour, capital, raw materials and customers. in 1948, Herend became part of the nationalization scheme covering the entire ceramics industry in Hungary.
In 1949, kaolin, a key ingredient for porcelain, became available again and production resumed in an expanded factory. After a brief detour into mass production, the powers that be realized the Herend   could be a cash cow. By the early 1960s emphasis was again on hand-  painted pieces with quality and production both increasing dramatically into the 1990s.
Herend again became a separate enterprise in 1981 with foreign-  trading rights gained in 1985. On July 1, 1992, The Herend Porcelain factory, a state-owned corporation, became Herend Porcelain.
By P. S. News/Features
Caption:
Add value and luxury to your Christmas shopping with precious Herend China signed by leading Herend Artist Marianna Steigervald, Nov. 20 and 21, at Kelly's House and Home, Mall at Marathon, Nassau.