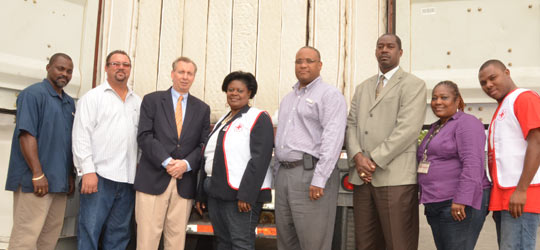 Several hundred residents in Cat Island and the Family Islands who were victims of Hurricane Irene will rest better over the holidays and next year as a result of a contribution of mattresses, frames, linens and other items which have been donated to the Bahamas Red Cross by the Bahamas Hotel Association and Atlantis.
Immediately following the hurricane, BHA appealed to its members to provide cash and relief items to those in need.  A number of hotels and other tourism-related businesses responded immediately including Sandals, Baha Mar and Atlantis.  Over the past several months it was also determined that many residents lost bedding and other furnishings; and since then have been doing without.
"We are pleased that BHA, in partnership with Atlantis, was able to provide this assistance" states BHA President Stuart Bowe.  "Working with the Bahamas Red Cross, NEMA and John Nixon at the Ministry of Tourism and Aviation who provided ground support on Cat Island, we identified those individuals in need of the mattresses and related items and established a distribution system to reach them" he added.
Close to 300 mattresses and frames, several hundred sets of linens, shampoo and body bath items were part of the donation.
Thanks to coordination efforts by BHA, the Red Cross, NEMA and the Ministry of Tourism, the first shipment of materials reached Cat Islanders before Christmas.  Over the coming weeks additional deliveries will be made to Cat Island and Eleuthera.