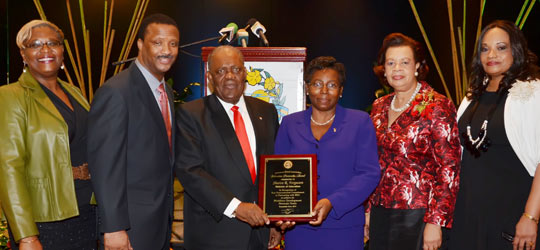 Recognizing her longstanding support for programs which bring business and education together, Bahamas Hotel Association President Stuart Bowe, joined by the Prime Minister, recently presented Sharon Ferguson, Education Officer for Career and Technical Education for the Ministry of Education, with its annual Business-Education Partnership Award.  The award was presented at BHA's Annual General Meeting luncheon earlier last month.
"Ms. Ferguson is most deserving of this recognition, having worked with our industry for many years on programs which have improved student and educator awareness about our dynamic industry, strengthened tourism-related school curriculum, built basic entry-level skills for students, advanced the culinary profession and promoted scholarship opportunities.  She has been a key pillar in the bridge which connects education with industry and students to their future" stated BHA President Stuart Bowe.
"We wish to underscore the critical importance of industry and education working together to improve opportunities for young people, better prepare them to seize those opportunities, and helping them to make a positive contribution to our economy and our nation.   Industry is motivated by individuals like Sharon Ferguson whose leadership and support has also inspired many other educators to embrace industry to the benefit of our young people" stated President Bowe.
In accepting the award, Ms. Ferguson thanked BHA and pledged to continue to support initiatives which prepare young people for careers in the industry.  Joining in the award presentation was the Ministry's Permanent Secretary Elma Garraway, the first recipient of the BHA Award.