Calls For Justice In Human Rights Violations
January 17, 2012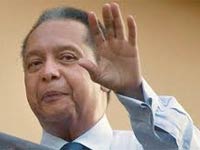 LONDON, England — On Monday, on the first anniversary of the return to Haiti of former dictator Jean-Claude Duvalier, Amnesty International reiterated its call for the case to be seriously investigated and to bring to justice in a fair trial meeting international standards those responsible for the past human rights violations.
Days after his return last year on 16 January, several victims of human rights violations during Jean-Claude Duvalier's government (1971-1986) filled complaints against the former dictator and an investigation was opened by the Haitian judicial authorities.
Amnesty International supported the process by providing to the Haitian authorities hundreds of documents from the archives of the organisation, which document the serious human rights violations that happened in Haiti during Duvalier's government and which amount to crimes against humanity.
Based on those documents, a report was issued by Amnesty International in September 2011 calling for the end of the impunity for the crimes committed by Jean-Claude Duvalier: "You cannot kill the truth: The case against Jean-Claude Duvalier."
"One year on, the victims of the former dictator are still waiting for justice more than 25 years after the events. The Haitian authorities are failing to bring Jean-Claude Duvalier to justice and to end the impunity," Amnesty International said.