Fraud Case Witness Murdered in Prison
February 14, 2012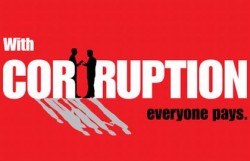 Prominent Bahamians who masterminded a failed attempt to defraud a bank of $100 million dollars made sure the only person who knew the details of the fraud was killed in prison.
60-year-old Steve DeGruiter, an Indonesian-American, died in Her Majesty's Prison after prison officials refused to obey a judge's order that he be taken to the hospital.
It is alleged that prison officials acted on behalf of prominent Bahamians who had masterminded the fraud.
DeGruiter was charged, along with three others, of attempting to obtain $100 million cash by false pretences from EFG Bank and Trust through a forged JP Morgan cheque on July 8, 2010.
The defendants were brought to court last week but Magistrate Guillimina Archer delayed her ruling on the case because one of the accused was ill.
The magistrate apparently saw Mr DeGruiter in a wheelchair outside the court and ordered that he be taken to hospital for immediate treatment.
When court was resumed two hours later, DeGruiter's attorney Godfrey Pinder said his client had not been to hospital, but was returned to prison instead.
A cell-mate of DeGruiter then asked the judge if he could speak.  He told the judge that prison officials were ignoring DeGruiter's rather serious health problems.  Magistrate Archer said she would ask Supt Elliston Rahming why his officers disobeyed a direct order from the court to take DeGruiter to the hospital.  She also postponed the matter until February, 13.
Yesterday, when Archer handed down her verdict, only three defendants were in court. Mr DeGruiter had died in the prison. The remaining three accused – Carol Collins, 50, of Massachusetts, and two Japanese men Hirofumi Tanabe, 57, and Katsuichi Yufu, 72, were convicted on two counts of uttering a forged document, and another two counts of attempted fraud by false pretences.
They were sentenced to serve 20 months at Her Majesty's Prison on each count. The sentences are to run concurrently.
Yufu and Tanabe were represented by Murrio Ducille.  Mr Pinder represented Collins and DeGruiter.
It is alleged that Mr DeGruiter was the "go-to" man for prominent Bahamians who masterminded the fraud and orchestrated his death. The Bahamians were concerned that Mr DeGruiter would identify them if he was convicted.
This is very similar to the case of the Polish sea captain, several years ago, who was charged with human trafficking.  In that case, prominent Bahamians who were financing the illegal trafficking operation made sure the captain died in prison.  Like in Mr DeGruiter's case the captain's serious heath problems were ignored by prison officials.  The other people charged with trafficking in that case were just hired hands, Polish nationals who couldn't speak English. They were simply deported.
In 2003, Amnesty International received credible allegations that Kazimierz Kwasiborski, an untried prisoner and Polish national, died in prison on 28th August 2002 after being repeatedly denied requests to access medical, legal and consular assistance.
Due to the abject corruption in the Bahamas legal system, which includes corrupt police, magistrates, lawyers, court employees and government officials, Bahamian mobsters are able to manipulate cases to whatever extent they desire.
If a court case can not be manipulated, or if the case is being investigated by authorities outside the Bahamas, then the witnesses are killed.  This was the case of Hywell Jones, the British banker who was killed during a U.S. investigation into a massive financial fraud scheme orchestrated by a former member of the Bahamian Parliament.