Dictatorship Emerging in Grenada
March 14, 2012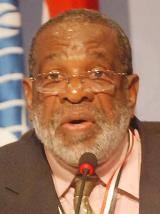 ST GEORGE'S, Grenada — Former environment minister, Michael Church, claims that Grenada's prime minister is being used to impose a dictatorship on the country.
Church said he previously spoke of the "emergence" of the "dictatorship" at a meeting of the ruling National Democratic Congress (NDC), and also at a cabinet sitting before his resignation from government in 2010.
He repeated the "dictatorship" allegation in parliament on Tuesday, saying Prime Minister Tillman Thomas was not the architect of it.
"It's a group of faceless people who understand the psychology of the prime minister and use the face of the prime minister to justify, and give credence, to the creating of that monster," Church said in his contribution to the 2012 budget debate.