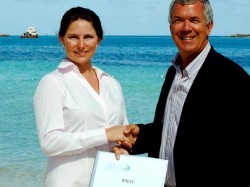 Two more teachers will be in a better position to teach school children about the necessities and benefits of protecting our marine environment thanks to sponsorship by Palm Cay Marina on Nassau's Southeastern shore.
Casuarina McKinney-Lambert, the BREEF executive director who accepted the cheque from Richard Browning, the CEO of Palm Cay, said that corporate sponsorship and other fund raising efforts allow them to pay for the all important teacher education programme.
"It is extremely important for children to learn and understand the necessities and benefits of protecting our islands' marine environments," she said.
"Palm Cay's generous donation, and other fund raising events such as the BREEF Ball on March 30th at Albany, is the life-blood of our educational Foundation."
Richard Browning agreed. "All of us at Palm Cay Marina understand the importance of protecting our oceans resources; BREEF is facilitating a crucial programme and we are happy to support it."
The 14th Marine Conservation Teachers Training Workshop is held over 8 days at the Gerace Research Centre on San Salvador in mid-July. Palm Cay, with 196 slips, is the largest residential Marina on New Providence.
By Serena Williams
Photo: Valentino Kemp