Poaching On The Rise, Costing Bahamas Millions
March 9, 2012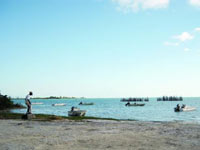 Millions of dollars continue to leave The Bahamas annually due to rising levels of poaching, according to secretary and head of public relations at the Bahamas Commercial Fishers Alliance (BCFA).
Adrian LaRoda told Guardian Business that his organization is still waiting for an opportunity to meet with Prime Minister Hubert Ingraham to voice their concerns.
Despite making some recent progress, he admitted the industry still has lots more work ahead of them.
"It will mean that laws and policies will have to be changed. Some policies will have to be changed in order for some activities to be prohibited that are currently being allowed to take place. The Department of Fisheries needs to be consulted as to who are given permits to engage in the local fishing industry," he explained.
"At the moment, I do not believe that the Department of Fisheries is being consulted, so you have the Department of Immigration doing their own thing that is in breach of the fisheries regulation. Then the Department of Fisheries is blamed for it when they are not consulted most times."
LaRoda noted that the country's fisheries law clearly states that foreigners cannot engage in commercial fishing.
Still, LaRoda pointed out that while a number of them come from the United States, most of them originate from places in the south such as the Dominican Republic.
"We also have poachers come in from America in terms of sport fishing. These guys come in out of Florida. They bring between 40 to 50 tourists on these boats and bring them on a two-day excursion to The Bahamas," he said.