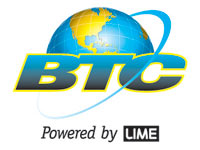 BTC officials apologized for the disruption in cell service in New Providence over the weekend, explaining it was caused by efforts to complete a step in the GSM network upgrade.
When complete, that upgrade will result in the switch over to a new 2G  & 4G mobile network that will expand wireless service coverage, improve quality and increase 2G data speeds by as much as 300% while providing 'Blazin speeds' on its 4G Mobile Network.
"BTC has an 18-month mobile network improvement program migrating from what is currently in place to a state of the art Ericson 2G & 4G Mobile Network switch that will enable us to improve voice quality, expand coverage and vastly increase data speeds," said Jerome Sawyer, Senior Manager Public Relations.
"Technicians tell us that transmission of 2G data is  operating at about 100k and that when the switch is complete, we will be at 300k. In real terms that you and I understand, it means that when the switch is complete we will be able to download a 5-minute video on YouTube 300% faster or three times as fast."
The company has been working on the installation for 14 months and expects to have it completed in another four months.
"The particular switch over that was attempted this weekend has already been successfully completed throughout all of the islands except Andros and New Providence," said Sawyer.
"During the migration of New Providence and Andros this weekend technicians ran into barriers and have had to push back the completion date of this stage of the upgrade process." Over the next four months, the entire BTC mobile network will be upgraded, but BTC said it halted the New Providence part of the migration process temporarily to avoid further disruptions on the island.
"We did not want to risk inconveniencing our customers any further," said Sawyer. "We are examining ways to give consideration to our affected customers and will advise when crews are ready to complete the work in New Providence."
The move to the state-of-the-industry Ericson Edge data switch is a component of the company's $100 million-plus capital expenditure investment that will totally transform the nation's mobile, broadband and fixed line services. That transformation complements staff re-training and an unveiling of new retail stores across the nation.
Last week, BTC launched 4G and stores in Bimini and the Berry Islands and later this week, it will open stores and launch 4G in Treasure Cay and Marsh Harbour, Abaco. BTC is working toward blanketing The Bahamas in 4G by late summer, making it one of only a handful of countries worldwide to operate at the highest speed for uploads and downloads, making it 'blazing fast' to access everything on a mobile device from a weather report to the latest YouTube video.