Beauties At Brunch To Honour Geneva Rutherford
June 19, 2012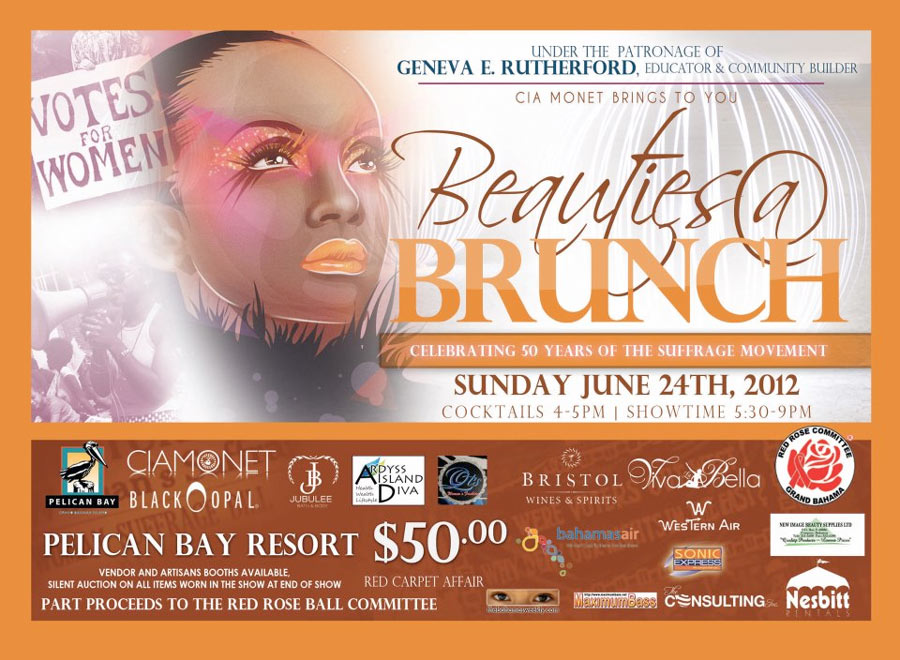 Freeport, Grand Bahama Island – The highly anticipated fashion event by Cia Monet to commemorate the 50th anniversary of women's suffrage and honour great women of The Bahamas is set for Sunday, June 24th  at 4pm   at the Canal House, Pelican Bay Hotel.
Beauties at Brunch which celebrates fashion, sophistication, professionalism and poise, by coupling beauty and fashion with premium venues, food and wine. The event is in partnership with the Grand Bahama Red Rose Ball Committee, which will also receive part proceeds towards their charitable contributions in HIV/AIDS Awareness in Grand Bahama.
"We are so pleased to be honouring Mrs. Geneva E. Rutherford for our first event in Freeport!"   said Patricia Chiatti of Cia Monet. "She is most definitely a community builder of Grand Bahama, and has contributed countless hours to help others. She is currently  spearheading a  national partnership project with the Bureau of Women's Affairs."
"To be publicly recognized at any time in one's professional life is a tremendous honour that few persons receive in spite of their efforts and the successes achieved.  I am humbled and most grateful for being extended such an honour as you seek to promote recognition of major issues affecting women and the principles of the Bureau of Women's Affairs," said Rutherford.
"Please know that there are many, many other women on Grand Bahama who deserve this recognition for their personal sacrifices, contributions and efforts in building communities of this island."
Beauties @ Brunch organizers will honour Mrs. Geneva Rutherford on June 24th at the Canal House, Pelican Bay  The event also honours the efforts of the   Red Rose Ball Committee, a   non-profit charity group in Grand Bahama who educates on HIV/AIDS awareness, as   part proceeds from Beauties @ Brunch will be donated to this Committee.
"This is not a female-only event, said Chiatti. "Although the event commemorates women, men are encouraged to attend.  Mr. Steven Reily who used to manage UNEXSO in Grand Bahama said this after attending the Nassau event, "I had a great time at the Beauties @ Brunch Event at Compass Point, surrounded by beautiful ladies, a great fashion show, nice food and drink. I met some fantastic people! It's definitely a great event, for a great cause."
Tickets are a donation of $50    and can be purchased at: New Image Discount Beauty Supplies, Kipling Lane, 351.5500; Pelican Bay Hotel, Nicoya Bethel, 373.9550; or Odette Knowles Red Rose Ball Committee (Chairperson), 442.4555.
Organizers wish to thank the event sponsors: New Image Beauty Supplies, Pelican Bay Hotel, and The Consulting Inc,  Bristol Wines and Spirits, TheBahamasWeekly,com, Western Air,  Bahamasair  Designs by Jennifer, Black Opal, and Nesbitt Rentals.
Established in 2005, Cia Monet is an exclusive online shopping experience that caters to its client's every need. Providing high-end fashions, accessories, jewelry, cosmetics and fragrances from the lines of Bvalgari, Tiffany, Burberry, Mont Blanc, Links of London, Gucci, Chanel, BCBG and even Mac Cosmetics, Cia Monet is a one stop shop for all your fashion needs.
With a local showroom in Nassau, Bahamas, and an online presence Cia Monet is all about personal shopping. With thousands of products ranging from bedding to everyday fashion to choose from, your shopping possibilities are endless and all the choices are all just one click away.
By Cia Monet