Nassau Revitalization Explained To Local Investors
June 25, 2012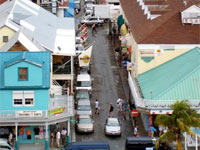 NASSAU, The Bahamas — The Bahamas Government has put in place several pieces of legislation dealing with concessions to promote Bahamian entrepreneurship and business expansion.
During a Downtown Revitalization and Investment Incentives seminar, the Director for Investments in the Bahamas Investment Authority, Mrs Jibrilu said the legislations include the City of Nassau Revitalization Act, 2008 and the amendments to the Hotels Encouragement Act provide customs duties and concessions on building materials and equipment.
The Bahamas Government and The Bahamas Chamber of Commerce and Employers Confederation (BCCEC) partnered to co-sponsor the seminar, which was held at the British Colonial Hilton, Thursday, June 21, 2012.
Mrs Jibrilu said the City of Nassau Revitalization Act, 2008 seeks to make provision for the exemption of real property tax (on new buildings only and for a limited period of five years), customs duty and excise tax on supplies imported for the purpose of a capital investment in the City of Nassau.
"This Act provides that any owner of property situated in the City of Nassau who wishes to make a capital investment or investment in the City of Nassau, may make an application to the Minister with responsibility for the approval of an exemption from real property tax, customs duty and excise tax in respect of the capital investment.
"Capital investment means construction of buildings for residential or commercial use or the renovation, repair, upgrade of residential or commercial buildings, but does not include any household furniture or any article imported for sale or personal use."
She also gave the zoning areas that constitute the area of New Providence known as "the City of Nassau":
All that part of New Providence bounded on the north by the Harbour of Nassau, on the east by Mackey Street, on the south by an imaginary line starting at a point approximately three hundred and eighty yards to the south of the junction of Mackey Street and Shirley Street and continuing in a straight line to the south-east corner of the grounds of the Princess Margaret Hospital, thence south-westwardly to Prison Lane, thence to the division wall between the Barracks and the Prison, thence in a straight line westwardly to the junction of Dillet Street and Meeting Street to Nassau Street and on the West by Nassau Street.
When applying to receive concessions under the City of Nassau Revitalization Act, Mrs Jibrilu said a completed CNR application form, a completed Annex A form, a copy of the company's current Business Licence, and Receipt of payment of current & outstanding Real Property Tax must be submitted.
Minister of State for Investments in the Office of the Prime Minister the Hon Khaalis Rolle; Chairman, BCCEC, I Chester Cooper and local businesspersons and aspiring entrepreneurs attended the seminar.
Those attending the seminar were able to ask questions, offer criticism as well as offer suggestions to the Minister and investment officials.
By: Llonella Gilbert
Bahamas Information Services