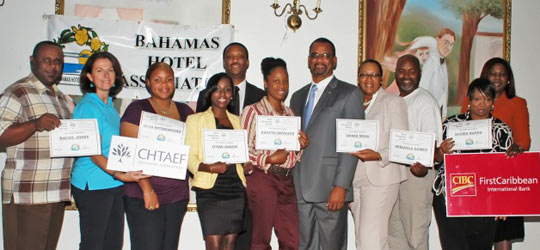 Minister Fitzgerald Joins CHTAEF Trustee and BHA President in Presenting Awards
Thanks to the support from nineteen BHA members and CHTAEF's corporate supporters, eight Bahamian students have been awarded $47,000 worth of scholarships to pursue their tourism-related studies during the upcoming school year.
Jerome Fitzgerald, Minister of Education, Science and Technology and Stuart Bowe, President of the Bahamas Hotel Association praised the Bahamians, who were awarded regional tourism scholarships by the Caribbean Hotel & Tourism Association Education Foundation (CHTAEF). The eight individuals received scholarships ranging in total from five to ten thousand dollars to pursue careers in the hospitality industry.
The presentations were made on Friday, 29th June, 2012 at Casuarina Hotel, West Bay Street during the closing session of BHA's 9th annual summer educator internship program.
The awards are made possible thru CHTAEF's partnership with international travel companies and with the Bahamas Hotel Association.  Locally, members of BHA assist with CHTAEF's fundraising, primarily through contributions in support of its annual New York Times Travel Show auction.
This year Bahamian students captured eight of the region's 35 awards bringing the total number of scholarships awarded to Bahamians valued at $47,000.
BHA President Stuart Bowe noted that the calibre of scholarship applicants has improved considerably over the past 7-8 years.  "It's a testimony to our joint efforts, educators and industry, preparing, enlightening and exciting students about the more than 1,000 different types of tourism-related career opportunities in The Bahamas today.  More young people are learning about these opportunities and going after them" states Bowe.
Minister Fitzgerald expressed his pride in the Bahamian recipients as four of them received "named" scholarships of the six that were awarded regionally.  "It is a further example of the quality of students that The Bahamas is producing in the Tourism industry."  The Minister noted that "by providing scholarship opportunities, the Tourism industry in the Bahamas will continue to grow because we have bright, intelligent and highly trained individuals at the helm of our number one industry."
The Minister and BHA President Bowe also thanked Ms. Louise John, Trustee of the Caribbean Hotel and Tourism Association Education Foundation, who was present at the ceremony presentation for her organization's support of Bahamian tourism.  Ms. John applauded BHA, the Ministry of Education and industry and educators for their work in preparing young people for careers in tourism.  "The Bahamas is doing an exceptional job in readying your young people and others in the region can learn from what you are doing" she commented.
The Caribbean Hotel & Tourism Association Education Foundation (CHTAEF) was established in 1987 as an independent non-profit organization to fund scholarships and special assistance for the education of Caribbean tourism industry personnel and students pursuing tourism & hospitality careers. As part of its mission, the Education Foundation provides people throughout the Caribbean region with an awareness of the varied career opportunities in the industry, as well as technical and professional.
List of Awards presented:
D'Nae Baker – Virgin Holidays 2012 & Johnson and Wales University Scholarships 2012 – B.Sc. Culinary Nutrition, Johnson and Wales University – Miami
Alexis Hanna – CIBC – FirstCaribbean International Bank & Johnson and Wales University Scholarships 2012; B.Sc. Hotel and Lodging Management, Johnson and Wales University – Miami
Alicia Green – General & Florida International University Scholarship 2012
M.Sc. Hospitality Management, FIU
Deja Rutherford – General & Johnson and Wales University Scholarships 2012
B.Sc. Culinary Arts and Food Service Management; Johnson and Wales University – Miami
Denez Moss – Interval International Scholarship 2012
B.A. Culinary Arts – Baking and Pastry; Culinary Institute of America
Krysten Deveaux – General & Johnson and Wales University Scholarships 2012
B.Sc. Culinary Arts and Food Service Management; JWU – Miami
Rache Josey – General & Johnson and Wales University Scholarships 2012
Assoc. Culinary Arts & Food Service Management; JWU – Miami
Mikiala Dames  – General & Johnson and Wales University Scholarships 2012
Assoc. Culinary Arts & Food Service Management; JWU – Miami
BHA expresses special appreciation to the following hotels which donated room nights following our appeal in support of CHTAEF's New York Times Travel Show Auction.  This level of support combined with the calibre of scholarship applicants made it possible for such a positive showing of awards from The Bahamas:
•    Treasure Cay Beach, Golf and Marina Resort
•    Cape Eleuthera Resort
•    Halvorson House Villas Resort
•    Swains Cay Lodge
•    Island Hopp Inn
•    Sandals Royal Bahamian
•    Atlantis Paradise Island – Royal Towers
•    Comfort Suites Paradise Island
•    Palm Bay Beach Club
•    Paradise Island Harbour Resort
•    Bimini Big Game Club
•    Sheraton Nassau Beach Resort
•    Gems at Paradise Private Beach Resort
•    British Colonial Hilton
•    Pelican Bay
•    Pink Sands
•    Conch In Hotel & Marina
•    Atlantis – Coral & Beach Towers
Bahamas Hotel Association (BHA)