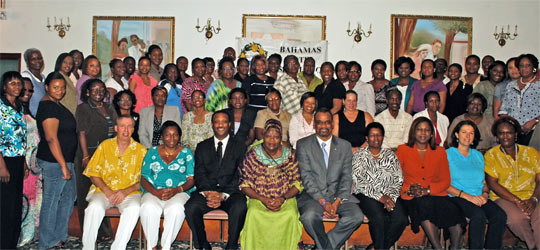 Over sixty educators recently invested a weeks' summer vacation volunteering their time to learn about the more than 1,000 different types of careers in the tourism industry through their participation in the summer educator's internship program, an initiative of the Bahamas Hotel Association, in collaboration with the Ministry of Education, Science and Technology and the Ministry of Tourism.
Now in its ninth year, the popular summer program has attracted over 800 educators from all grades levels and subject disciplines, as well as guidance Counsellors and administrators from throughout The Bahamas.  The educators spend two days learning about various opportunities and needs in the industry through workshops led by tourism industry professionals, and three days in hotels and tourism-related businesses for practical, hands-on exposure and site work with industry personnel.
Commenting at the closing session held at Nettie's Place in Cable Beach, BHA President Stuart Bowe said "The summer educator internship program is one of our core partnership activities with education.  It recognizes that many educators have not been exposed to our industry and is designed to broaden their understanding about it and what it takes for young people to be successful and rise within its ranks".
Minister Fitzgerald echoed President Bowe's remarks in speaking with the educators at the closing session.  "Your experience should prove beneficial to our students as you will be able to cater to their career goals, particularly as it relates to the tourism industry.
This program has led to educators being better equipped to prepare young people to enter the tourism industry and convey to them that it is not an industry of last resort. It is in fact, a sector which needs highly skilled employees and leaders."
He added, "We want to see these types of collaborations replicated more often throughout our educational system – where education is tailored to our students' interests and abilities. The time has come for us to become more realistic and practical with our limited education resources and use them so that students, on leaving school will have knowledge and certification for the job market. "
President Bowe reminded the educators "Our industry is at an important crossroads.  Tremendous opportunities are before us.  In just under three years, Baha Mar will be engaged in a mass recruitment exercise and while our collaborative efforts have been good and have borne fruit – all of us need to raise the bar and challenge ourselves to work together even more so, if Bahamians, particularly young Bahamians, are to realize the opportunities which this project presents.  The opportunities will be everywhere in the country but they will only be available to those who are prepared."
The theme for this year's program evolved around three key areas:  providing exceptional customer service; connecting Bahamian culture and heritage to the tourism experience; and showcasing the successful careers of global tourism legend Ellsworth Statler and Bahamian tourism pioneer Nettica Symonette.
Ms. Symonette shared with the educators her story, which in fundamental ways paralleled that of Statler, starting at entry level positions with a dream and high professional standards then working their way up the ranks to managing and owning their own hotels.  As the educators learned more about the work and legacy of these icons, they were inspired to be able to help students to believe in their own possibilities and potential.
Commenting on Ms. Symonette, Minister Fitzgerald said "Thank you, Ms. Symonette for serving as a role model and testimony to what Bahamians can do when they believe in their abilities. I salute this tourism giant for always incorporating an educational component in her projects.   For those who know her well, giving back has always been at the heart of her ventures and I encourage educators to take advantage of the opportunity to showcase our heritage.  Nettie's Place, Different of Nassau, can serve as a vital educational resource center."
Over the course of its nine years, through the internship program new approaches to learning have surfaced.  President Bowe stated "we've connected the dots between tourism and education with activities like the junior hotelier program – now reaching over 1500 students each year.  A growing number of students are spending time in industry on weekends, breaks and summers in structured programs which we support – the latest being over 60 juniors and seniors who are spending most of their summer in industry as part of the American Hotel & Lodging Education Institute's certification program."
Educators exposed to the program have worked with BHA over the years to introduce hospitality programs and develop the curriculum in several private high schools.  Through the program, BHA and the Ministry have been able to also bring industry people to the table with educators to review and upgrade junior high school and high school tourism-related curriculum to ensure it is relevant to today's workplace environment.
BHA and the Ministry will launch a second week's internship program on Grand Bahama this August when over 50 educators are expected to participate.
(Photo Caption) – The Minister of Education, Science & Technology Jerome Fitzgerald, Bahamas Hotel Association President Stuart Bowe, and pioneer Bahamian hotelier Nettica Symonette, pose with educators and tourism industry stakeholders who participated in the recent 9th Annual Summer Educators Internship Program.
Bahamas Hotel Association