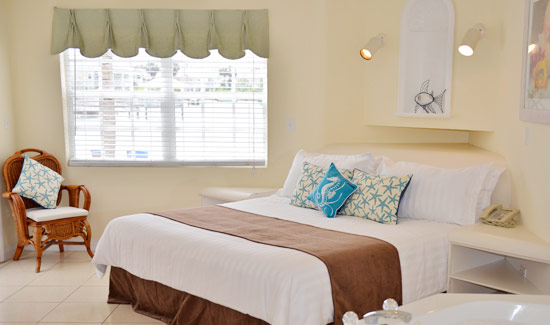 Sandyport Beaches Resort and Hotel in the Sandyport Marina has given a chic Bahamian-style upgrade to their 72 rooms and suites. Following a year of record-breaking high occupancy, the RCI Gold Crown-winning resort has incorporated Bahama Hand Print linens and increased local artwork to highlight the Island feel and ambiance of the resort.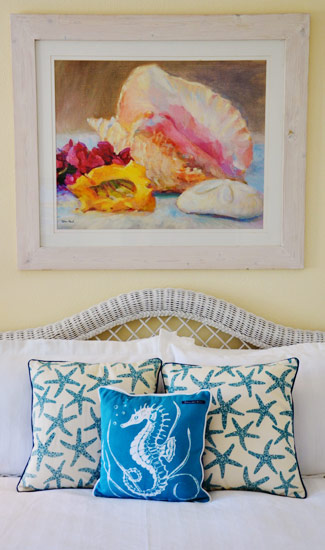 The project incorporates redecoration of the serene island rooms in fresh, beachy colours complete with new duvets and linens and topped off with an array of vibrant Bahama Hand Print pillows and cushions with seahorse, pineapple, and other tropical patterns. General Manager Vernon Moss says the acclaimed print manufacturer was the perfect choice for their remodelling needs.
"We couldn't go wrong with Bahama Hand Prints," said Mr. Moss. "The quality of the products is excellent, they are locally made and they highlight Bahamas' beautiful local flora and fauna. We try to create a luxury island ambiance in our rooms and the whimsical pillows add panache."
Executive Housekeeper Brigitte Fernander, who spearheaded the project, said that the creative concept for the rooms all started with the colours of local paintings featured in each room.
"We centred on the beautiful paintings of Bahamian sea life and scenery from Bahamian artist John Paul," said Ms. Fernader.
"We adopted the colour scheme for the Bahama Handprints, the new bed linens and even repainted the walls in sandy tones to match the authentic Bahamian aesthetics of the paintings. It all came together to create the environment of island comfort, perfect to help our guests relax and for them to recognise and feel that are they are in The Bahamas and not in some non-descript hotel room."
Sandyport Beaches Resort and Hotel is not a stranger to featuring local art and scenery on its property. A walk through the lobby will introduce you to a variety of photos of historical Nassau and no less than seven colourful oil paintings depicting family island life by Bahamian artist Clifford Fernander of San Salvador.
The renovations are the latest in a series of ongoing upgrades and seasonal 'refresher's to keep the hotel looking fresh and beautiful. Throughout the series of upgrades, which also included the addition of state-of-the art Whirlpool appliances and granite counter tops in many of the kitchens, General Manager Moss claimed that supporting local business was a top priority.
"We always buy local – as an entirely Bahamian owned and managed boutique resort, we always strive to support local business where we can; we consider these enterprises our partners," said Mr. Moss.
As Sandyport Beaches Resort and Hotel continues to renovate, General Manager Moss says they are continuing to look for interesting Bahamian art to feature and he encourages up-and-coming artists to reach out if they feel their work is a good fit.
"We are always improving, to better serve our clients and as we go through this process we hope to continue to support Bahamian artists and artisans. We invite 'creatives' who feel they have work that embodies island life and could enhance our Bahama-chic atmosphere to get in touch. We look forward to more exciting improvements and hopefully more local artist involvement."
About Sandyport Beaches Resort and Hotel
Sandyport Beaches Resort and Hotel's unique colonial-style villas house 72 studio rooms and suites located between the Lagoon Beach and the ocean-side Sandyport Beach on West Bay Street near luxury canal-front residences and the bustling commercial centre of Sandyport Marina Village.
The Sandyport Resort recently won the coveted RCI Gold Crown Resort award, the highest of the RCI designations as determined by industry expert evaluations and vacationers' comments. It is one of only three resorts in The Bahamas, and a select number worldwide, to meet RCI's requirements for this recognition.
Captions:
SIDE: Sandyport Beaches Resort and Hotel has renovated its 72 rooms and suites incorporating chic accents from Bahama Hand Prints and authentic Bahamian artwork from local artist John Paul.
TOP: In a recent renovation Sandyport Beaches Resort and Hotel featured local artists and artisans adding Bahama Hand Prints and John Paul paintings to the island-chic décor.