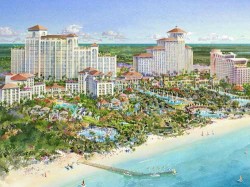 A Baha Mar senior official has responded to recent concerns over the Bahamas Electricity Corporation's (BEC) ability to adequately power the upcoming mega resort, stating that Baha Mar continue s to "work diligently" with BEC to meet its electricity needs, despite the government being aware of the resort's power needs for years.
Speaking with Guardian Business, Baha Mar Senior Vice President Robert Sands addressed statements made by Leslie Miller in The Tribune, which suggested that Baha Mar's launch would place significant stress on the country's already troubled power stations.
"The power generation needs of Baha Mar have been known to the government since the inception of the project, however Baha Mar continues to work diligently with BEC on the power needs of the resort by incorporating energy-efficient designs into its development.
"We have worked and continue to work with BEC on how they plan to meet our needs and that of the public," stated Sands.
Sands' comments come as Guardian Business investigations have revealed that the BEC board had previously laid the framework for substantial overhauls to its Blue Hills and Clifton Pier power stations with the goal of meeting Baha Mar and the country's growing power needs, but as much as 50 percent of the additional generation capacity intended to be implemented between 2012 and 2015 has not gone ahead.
GEOFFREY BROWN
Nassau Guardian Business Reporter
Click here to read the complete article at www.thenassauguardian.com