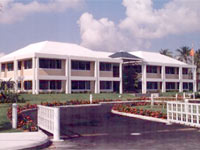 A.M. Best Co. has downgraded the financial strength rating to B++ (Good) from A- (Excellent) and issuer credit rating (ICR) to "bbb+" from "a-" of Family Guardian Insurance Company (Family Guardian) (Nassau, Bahamas). Family Guardian is a wholly owned subsidiary of its publicly traded parent, Famguard Corporation Limited (Famguard) [BISX: FAM]. The outlook for the above ratings has been revised to stable from negative. Concurrently, A.M. Best has assigned an ICR of "bb+" to Famguard. The assigned outlook is stable.
The rating actions for Family Guardian reflect A.M. Best's concerns regarding the risks associated with Family Guardian's high concentration in mortgage loans relative to its total equity and the continued delinquencies in its mortgage loan portfolio, which are attributable to the current weak economic environment in the Bahamas. However, A.M. Best notes that the company's level of mortgage loans as a percentage of total investment assets as well as a percentage of total capital has declined over time. While Family Guardian faces inherent risks associated with its group health division, A.M. Best acknowledges a trend of improving results in this line of business. Moreover, the overall weak economic environment in the Bahamas continues to present challenges to Family Guardian's longer-term financial results and growth opportunities. A.M. Best recognizes that in spite of the limited growth opportunities in the local market, Family Guardian has consistently recorded growth in premium income, and over the past five years achieved an annual rate of premium growth of 13%.
Offsetting these negative rating factors related to the economy and the size of its mortgage portfolio relative to its total equity is Family Guardian's more-than-adequate level of risk-adjusted capitalization, overall profitable operating results fueled by a turnaround in its group health division led by BahamaHealth, and its sustainable marketing presence as one of the two leading life insurance companies in the country. A.M. Best also notes that the company trends favorably when it comes to profitability and capital with consistent growth in stockholders' equity, despite dividend payments. Family Guardian's three core business segments—home service, financial services and group division led by BahamaHealth—provide business diversification and competitive advantages in a generally limited and mature marketplace.
A.M. Best considers Family Guardian well positioned at its current rating level. Key rating factors that may result in negative rating actions for Family Guardian include adverse operating profitability, increased delinquency rates in its mortgage loan portfolio, any future significant impact on its reserving practices and profitability from the low interest rate environment and any overall deterioration in the Bahamian economic environment.
The methodology used in determining these ratings is Best's Credit Rating Methodology, which provides a comprehensive explanation of A.M. Best's rating process and contains the different rating criteria employed in the rating process. Key criteria utilized include: "Evaluating Country Risk" and "Understanding Universal BCAR." Best's Credit Rating Methodology can be found at www.ambest.com/ratings/methodology.
Founded in 1899, A.M. Best Company is the world's oldest and most authoritative insurance rating and information source. For more information, visit www.ambest.com