Sports Conference Focuses On National Development
July 24, 2012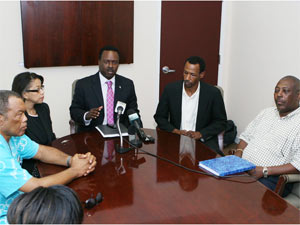 Nassau, The Bahamas – Minister of Youth, Sports and Culture, Hon. Daniel Johnson travels to London July 23 in preparation for the 30th Olympic Games in London, England. A press conference was held at Ministry of Youth, Sports and Culture on July 20, outlining the Minister's plan during his three-week visit.
The Minister, accompanied by Director of Sports in the Ministry of Youth, Sports & Culture,  Tim Munnings, will participate in the Commonwealth Sports Ministers Conference.  He said that this year's conference will focus on the use of sports in social and national development.
"It is a great theme because now in The Bahamas we're using sports for more than just playing the game. We're using it to support community building, character building, conflict resolution and the list goes on, " said Mr. Johnson.  "We are also seeing the results as scholarships are being offered in every island in The Bahamas to support these  young people by allowing them first-rate education."
During the second week, the Minister will  meet with  Lamine Diack, the president of the IAAF (International Association of Athletic Federations),  the largest athletic organisation in the world.
"He will be hosting us to have talks about a possible event at our national stadium. That would be the World Relays, where everyone would send their best teams to The Bahamas in 2014 and 2015 to compete against The Bahamas and the Caribbean."
Mr. Johnson said that although The Bahamas is a small country, its athletic history has made it a force to be reckoned with in the sporting world.  Bahamian Olympic Gold medalist, Pauline Davis will also be present for the meeting.
Mr. Johnson said that his team will also tour some of the sporting facilities in London.  "We will be visiting several sporting facilities with a view to getting behind the scenes to get a better understanding of how they are managed. What is involved, what the teams look like, seating capacity maintenance schedule, etc."
Bahamian High Commissioner to London, Paul Farquharson, will also host a reception for Bahamians attending the events with Bahamian residents in London also joining in on the festivities.
By Betty Vedrine
Bahamas Information Services
Caption
Minister of Youth, Sports & Culture Daniel Johnson speaks with the media during a press conference July 20 announcing plans for his visit to London during the 30th Olympic games. Pictured left to right: Wellington Miller, President of The Bahamas Olympic Association; Mrs. Nicole Campbell, Permanent Secretary; Timothy Munnings, Director of Sports and Calvin Balfour, Deputy Permanent Secretary. (BIS Photo/Raymond Bethel).