Bahamas Striping Helps Abaco Community
September 26, 2012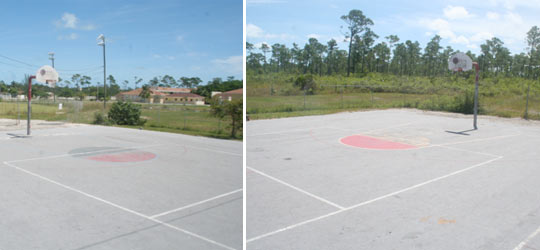 Murphy Town, Abaco – Abaco's homegrown patriotism and strong sense of community has lured Bahamas Striping to Murphy Town to help with another community project.
For Bahamas Striping president Atario Mitchell the project is special because Atario was raised in Murphy Town.
Bahamas Striping has partnered with the Progressive Liberal Party's North Abaco constituency candidate Renardo Curry to restripe and restore Murphy Town's basketball and volleyball court. Both venues have not been restored in nearly 15 years.  They will also clean the adjacent park.
The restoration and clean-up project is set for Saturday September 29, 2012
The partnership formed after Bahamas Striping in August made a donation to stripe five basketball courts for the Government's Urban Renewal 2.0 program. At the time, Mitchell requested that one of the basketball courts would be in his family's native town, Murphy Town.
Mitchell attended the Abaco Central High School and played many games on the same court he'll now be restoring. He credits the time shooting hoops as helping to develop him as a leader and teaching him the importance of teamwork. Today, Mitchell sees principles that he learned back then helping him to manage his company.
With his sporting experience, Mitchell recognises the positive impact that basketball has on young Bahamians. He recalls being on the court when his cousin Renardo Curry would mentor him and act as a big brother, steering him into the right direction.
Both Mitchell's and Curry's passion to help young people and the community led them to restore the court and clean up the park. On Saturday, Bahamas Striping starts the striping project at 8:30am and the public and press are invited. Curry looks forward to the event as he feels it's a way of showing his mandate to develop Abaco's youth, especially the men.
Curry noted, "While attending Grand Bahama Catholic High School, I was mentored by Coach Moon McPhee. His guidance helped mold me into an effective team player. Today I use these elements in my own career and as a father."
The PLP North Abaco candidate is also proud of his cousin Atario's success and promises to help him in any way possible. Curry said: "It's good that the men of Murphy Town such as Atario remember where they came from. It's great to see them pitching in, coming all this way at considerable expense, to help their hometown community. He's a true native son."
The project will benefit Murphy Town and Abaco by employing five young local men. Bahamas Striping believes that such partnerships benefit all parties and this one will help develop the Abaco community. The ultimate aim is to empower Abaconian youth, reduce crime and make the Abaco communities better places to live. Mitchell is looking forward to finding other ways his company and his team of young men can help the island where he grew up.
After the basketball and volleyball courts are striped and the park is cleaned, Bahamas Striping joins Renardo Curry and other Abaco community leaders in a basketball tournament, scheduled to start at 11:30 a.m.
The public is most welcome.
Bob Bower
Bahamas Striping plans to revitalise Murphy Town's basketball and volleyball courts and to clean up the Abaco Central High School Park for residents to enjoy. PLP Candidate Renardo Curry and Bahamas Striping's president, Murphy Town native Atario Mitchell, have teamed up for the restoration project
Once restriped, calls at the basketball games will be simpler for referees and players can play by the rules. Candidate Renardo Curry and Bahamas Striping's Atario Mitchell believe in community upkeep and enhancing the lives of young Abaconians. A community basketball tournament will be held Saturday 11:30 a.m. after the restoration and clean up.