Bahamians Upset Over Cable Bahamas' Price Hike
September 14, 2012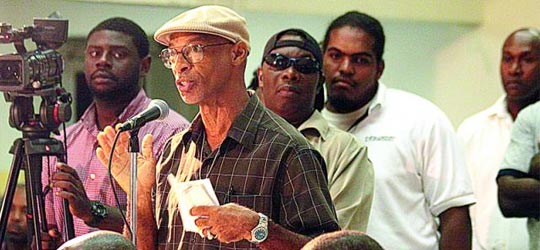 Dozens of New Providence residents, many of whom are Cable Bahamas Limited (CBL) customers, expressed strong concerns about the company's proposed rate increase at a public consultation meeting at Holy Cross Anglican Church Tuesday night.
On December 1, 2011, CBL submitted an application to the Utilities Regulation and Competition Authority (URCA) for a 27 percent increase in monthly charges for its SuperBasic cable TV service.
The increase would amount to $8 per month for residential consumers and $13.50 per month for commercial customers.
At times the exchange became quite heated as many residents, among the 130 or so who attended the event, voiced their disapproval of the proposed rate increase to URCA officials.
They argued that they could not afford the additional cost; there is no provision for a less expensive alternative package; the digitization and network infrastructure upgrade program was imposed upon them and the quality of products and services provided by Cable Bahamas are not up to their standards.
Greg Evans, a local warehouse assistant, said he believes Cable Bahamas customers are already paying too much for basic services.
He said he felt the company should reduce its fees and added that he felt forced to convert to the digital service at additional cost during the company's recent upgrade to retain the service.
In its application, Cable Bahamas pointed out that the price of basic cable service has not increased in 17 years.
Stephen Bereaux, URCA's director of policy and regulation, has said after detailed analysis of pricing related issues, URCA found that it appeared the price increase is to align the overall revenue from the RevTV Prime service with the cost to be incurred by CBL in providing it.
Former Director of Admissions at Success Training College Stephen Plakaris said he believed Bahamians have limited options when it comes to television and Internet service providers in the country, in spite of the sector being liberalized.
"Since they have been here, the cost of living has increased tremendously, a large percentage of our population is out of work and that means a lot of our households can no longer afford what we once could have afforded a few years ago," he said.
Nicholas Jacques, 58, a transportation business owner and Jasmin Bain, 41, a lecturer in the culinary department at The College of The Bahamas, agreed with Evans and said the cost of basic television service is exorbitant.
Bain, a Charles Saunders Highway resident, added that she did not feel she is currently getting "value for money" and a price increase is unreasonable given the economic climate.
Several other residents questioned whether URCA had already made a favorable decision on the rate increase, however, URCA's Chief Executive Officer Kathleen Smith responded that URCA has a "responsibility and duty" to consider all comments made by stakeholders before making any decision.
"If URCA had already made a decision, it would have only published that the application was approved," she said.
Bereaux said URCA will remain impartial as a regulatory body throughout the entire consultation process, and consider the views and opinions of all stakeholders.
Anyone interested in contacting URCA may call 393-0234 or email info@urcabahamas.bs. All documents related to CBL's rate increase are available at urcabahamas.bs.
Royston Jones Jr.
The Nassau Guardian
Caption: Stephen Plakaris, former director of admissions at Success Training College, voices his concerns at the town meeting Tuesday night.