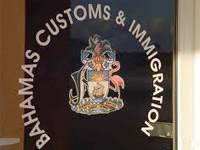 The move comes as the government presses ahead with reform of the trade sector with the goal of achieving a significantly more facilitative trading and commercial environment; a reform effort which it said yesterday had reached a "significant milestone" with the signing of a contract for the "business process re-engineering" of the Customs Department with international consultants from Spain.
The ACE International Consultancy, highlighted during a press conference at which Customs Comptroller Charles Turner; Minister of State for Finance Michael Halkitis, and Financial Secretary John Rolle spoke yesterday at Customs headquarters, will contribute to the implementation of an electronic single window (ESW) system in The Bahamas come 2016, Halkitis told reporters.
The company was selected after a "competitive" tendering processes in which 13 companies – including two from The Bahamas – submitted bids.
It is now expected over the course of the next six months that the company will review all internal and external business processes relative to the Customs Department as a precursor to the introduction of the ESW. The project will assist in ensuring the government selects the right hardware and software when it moves into the next stage of the project, for which $8.2 million has been budgeted, said the minister.
Explaining the benefits of an ESW, Halkitis said: "An electronic single window will automate and integrate all regulatory agencies involved in the importation and exportation of goods.
Click here to read the complete article at www.thenassauguardian.com