Off-Duty Police Officer Shot Six Times
October 9, 2012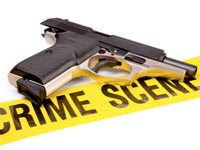 A masked gunman ambushed Corporal Chester Atherley at Woods Alley, off Wulff Road, around 10:30 p.m, and shot him six times.
Atherley, in his mid-40s, was walking to his car when the gunman shot him and fled. He had just completed a visit with his 15-year-old daughter when the incident occurred.
Before going into surgery Atherley, an officer of more than 25 years on the force, was able to give police the name of a person he believed wanted him dead. He is in serious condition at Princess Margaret Hospital.
In 2009, Atherley and a police reservist were accused of robbing a man of $600 at gunpoint.