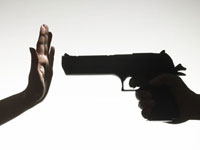 Nassau, Bahamas (July 14, 2014) – The Pan American Development Foundation (PADF) and the Royal Bahamas Police Force (RBPF) are launching a multi-year initiative that seeks to enhance anti-violence and crime prevention efforts in The Bahamas and the Caribbean at large.
The Resistance and Prevention Program (RAPP), which is funded by the U.S. State Department's Bureau of International Narcotics and Law Enforcement Affairs (INL) through the Caribbean Basin Security Initiative (CBSI), will work with police, government ministries and civil society organizations on social crime prevention for at-risk youth.
"It is key that we work closely together to address the rising crime and insecurity that is affecting so many communities in The Bahamas and across the region in order to ensure that our young people have better opportunities to grow and thrive in a safe environment," said Kristin Gilmore, Director for the INL Section at the U.S. Embassy in The Bahamas.
A key component of the program will be to develop community-driven strategies for addressing crime, while working regionally to apply lessons learned and ensure sustainability.  The ultimate goal is to identify lasting solutions to citizen security through preventive measures that avoid problems before they happen.  It is focused on:
·       Enhancing the capacity of young people, police and justice sector officials to work together on crime prevention; and
·       Building mutual trust between these groups to identify and anticipate the common causes of crime before it happens.
To this end, PADF will host a RAPP Program Facilitator Accreditation workshop on July 14-18, 2014 in conjunction with the Royal Bahamas Police Force at the Royal Bahamas Police Force Training College.  The training seeks to enhance participants' skills, knowledge and abilities to collaborate with and instill confidence among youth who are at risk for aggressive and/or criminal behavior.
This 40-hour accreditation workshop is intended to prepare leaders to mentor, educate and encourage others working with young people to take concrete actions that improve the future of the next generation. The workshop will provide an opportunity for participants to exchange experiences and discuss theoretical frameworks on social crime prevention, root causes of youth crime and violence, gangs, organized crime, domestic violence, communication and action plans to address these issues.  Ultimately, it will prepare participants to: (1) lead up to five-day long courses in crime prevention on a variety of topics covered in the instructor's manual and participant handbook; and (2) serve as agents of change in the promotion of concrete crime prevention techniques through use of action plans in targeted "hot spots"—areas with 5,000 or more residents—that include the communities of Fox Hill, Kemp Road, Saint Cecilia, Pinewood Gardens, Farm Road, Bain and Grants Town, Englerston, Nassau Village and Fort Charlotte.
Throughout the week, this accreditation will engage participants in hands-on active learning, where they will have opportunities to practice what they study through group work, presentations, role play and even a mock teaching session.
"The RAPP curriculum will provide a powerful crime prevention tool, which seeks to prevent and reduce levels of youth violence and crime throughout the Commonwealth of The Bahamas by empowering community police officers and emphasizing community cohesiveness in the development of action plans," said Dr. Novia Carter, PADF program coordinator for The Bahamas.
In addition, program participants will develop concerted action plans to be implemented within the nine Urban Renewal Centers located in New Providence—the most populous island in the Bahamas—and one in Grand Bahama.
"The success of RAPP will be measured in the years to come through the active and sustainable participation of civil society and a variety of government agencies," added Carter.
About PADF
PADF is the non-profit foundation of the Organization of American States, established in 1962 to implement integral socio-economic development programs for disadvantaged people, to strengthen civil society and community groups in support of the Inter-American Democratic Charter, and to aid victims of natural disasters and humanitarian crises. In 2013, it helped more than 10 million people in 23 countries. Headquartered in Washington DC, PADF has field offices in Haiti, Colombia, Suriname and Honduras, and projects throughout Latin America and the Caribbean. www.padf.org
About INL
The Bureau of International Narcotics and Law Enforcement Affairs (INL) advises the President, Secretary of State, other bureaus in the Department of State, and other departments and agencies within the U.S. Government on the development of policies and programs to combat international narcotics and crime.  INL programs seek to reduce the entry of illegal drugs into the United States; and to minimize the impact of international crime on the United States and its citizens.  www.state.gov/j/inl/