The Bahamas In Numbers
October 17, 2012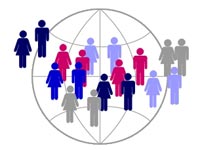 Our census, a vital and complicated undertaking, describes the identity of The Bahamas through numbers. It is also indicative of trends and analysis of data based on successive census reports.
For The Bahamas this not only means comparison on a regional scale, but also between our islands. Remarkably, this is the 19th decennial census to be conducted in The Bahamas. Early census counts are not likely to be comparable to recent data due to likely discrepancies in survey methods, but they nonetheless provide value to the history of The Bahamas.
Interestingly, the census report makes note of the first census in 1722 whereby 74 percent of the population was white and 26 percent black, compared to the 2010 census whereby 91 percent identified themselves as black, five percent white, and two percent as of mixed race. Such an extreme reorientation of the racial makeup of a country identifies the need to reexamine assumptions about who we are.
Population statistics are perhaps the most widely recognized outcome of a census. For those living in New Providence, it is all too obvious that the island accounts for 246,329 people or 70 percent of the total Bahamian population. With an additional 35,497 people since 2000, it is all too apparent that the roads are more congested, lines a bit longer, and the housing prices just a bit higher.
But herein lies the importance of data availability. While New Providence may have experienced the greatest increase in people, several other islands had a much higher percent change in population growth – take Abaco, which experienced an increase of 4,054 people or nearly 31 percent to a population of 17,224 compared to 2000. Though such an increase would be nominal for New Providence over 10 years, in Abaco the additional people stress local infrastructure from power generation to road maintenance.
The Bahamas' greatest challenge is providing and maintaining basic infrastructure across the populated islands. Even with all the controversy, Abaco needed a new power generating facility and still suffers from countless power failures. While the population congregates in New Providence, growth and a retraction of growth on some islands must guide government expenditure and planning.
Likewise, the government must accept the diversity of residents living in The Bahamas and amend its immigration policies. Seventeen percent of the population claims citizenship elsewhere, the majority or 64 percent were from Haiti. Though the census claims to account for residents regardless of immigration status, it is difficult to imagine that the census was able to account for all residents of known Haitian communities such as those found in Abaco.
The Nassau Guardian has reported on specific data tables such as Internet access and usage, health insurance, and access to toilets at private dwellings. There are numerous other tables where trends can be extrapolated on for use in education planning, the looming retirement of baby boomers and their future health care needs, marriage trends and reproduction rates.
A copy of the Census 2010 Report became publicly available online on Monday, October 15. Such data provides innumerable opportunities for government agencies, private researchers and the general public to better understand our Bahamas.
Originally printed by The Nassau Guardian