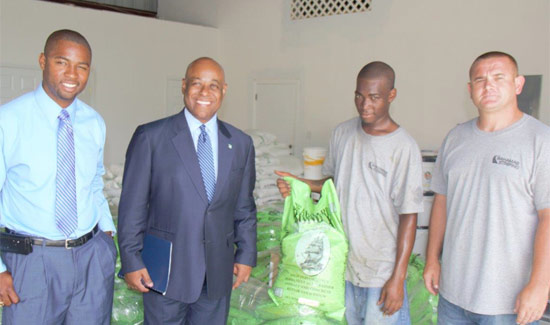 The Bahamas Striping Group of Companies (BSGC) is in the embryonic stages of acquiring crown land in West End, Grand Bahama to build a $750,000.00 cold mix patch manufacturing facility. The plant which is scheduled to come on stream in mid 2015, will produce a value added product in The Bahamas which will be distributed throughout the country and the Caribbean region.
BSGC realized that global trends are shifting away from the traditional industry concept of manufacturing a product from the ground up. The company will import the binder, which is the proprietary product, and will complete it by adding locally produced aggregate to produce an environmentally green product for road re-pavement and pot hole repair in the country.
As there is not a hot asphalt plant readily available, the government spends millions per year to import traditional cold patch to conduct road repairs on trenches and pot holes in the Family Islands, as well as for Bahamas Electricity Corporation (BEC), and Water and Sewerage. Most Caribbean countries use cement to patch pot holes, which does not bond.  Recently, Jamaica has also adopted a similar product to cold patch. Once the product is applied correctly, it can last for three to five years.
Manufacturing in The Bahamas is slowly entering a dynamic new phase as there are now new substantial opportunities that will propel this industry into becoming an important sector in the Bahamian economy.
"This investment reflects our continued commitment to meeting growing market demands for maintained and safe roads in the Bahamas," said Atario Mitchell, President of BSGC. "Our ability to produce these products will strengthen our supply reliability as the Government, small contractors, and distributors will be able to purchase cold patch from a local manufacturer. The Cold patch is a mix of black tar like binder and rock aggregate. Both of these products will repair and rejuvenate hot mix asphalt pavements as well as double tar, sand, and seal surfaces commonly found in the Bahamas."
He added, the products are guaranteed to provide huge savings in the public and private sectors because it will have a less expensive price point and more importantly the money can stay in the country.
BSGC envisages that the recent announcement of duty free concessions for the businesses in East End and West End will provide the needed stimulus and incentives to relocate its plant to West End as well as boost the economy by providing jobs.
"We believe that this plant will provide well beyond the needs for the country, as cold patch will be produced on a daily and monthly basis. This augurs well for the economy in West End as we are projecting that we will hire fifteen locals and one international trainer who will teach West Enders how to use the plant and create the product," said Dr. Allen Albury, Managing Director. "West End has the necessary international trade logistics and shipping infrastructure which will allow us to transport the cold patch not only throughout the country but to other Caribbean Islands."
In the next few years, west Grand Bahama will be recognized as a manufacturing and shipping mecca. BSGC is welcoming and inviting dynamic and mature investor networks, with expendable income and a proven ability to partner and interconnect with them as they are positioning BSGC for regional and global expansion through investment in the plant and equipment.
Member of Parliament for West End and Bimini, and the Minister of Tourism, the Honorable Obie Wilchcombe said the duty free concession incentive will serve as a stimulus to turn the entire west Grand Bahama economic and social circumstances around. Bahamians will see a fast and booming economy for West Grand Bahama because it is much more vibrant and provides more opportunities than East Grand Bahama.
"You don't want to have a growth of the foreign business and Bahamians are left behind. We have gone through political and social revolutions and the next revolution will be an economic one.  Bahamians are better educated and exposed to the business world and they have access to capital which allows them to invest in and they will provide an avenue for growth which will be sustainable and we will see a number of Bahamians get employment," said Minister Wilchcombe.
He added that when Grand Bahama was created it was thought to have the opportunity to be an industrial city. By Bahamas Striping coming to West End, it will start a new phase of growth for west Grand Bahama. The company will not only serve the domestic market, but they will service the domestic Bahamas market and the international market because of the access to the ports and for shipping. All that is needed is a vibrant company to invest and it will cause others to follow which will create a domino effect in terms of growth.
CAPTION: Obie Wilchcombe toured the Bahamas Striping new cold patch storage facility with Bahamas Striping staff. Pictured from left to right, Mr. Atario Mitchell, President of Bahamas Striping, The Honorable Obie Wilchcombe, Member of Parliament for West End and Bimini and The Minister of Tourism, Bahamas Striping staff member, Mr. Brian Bostock, Training Manager of Bahamas Striping.