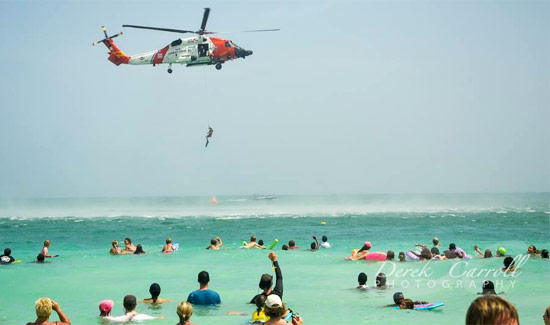 On Saturday, August 16, the United States Coast Guard Air Station Clearwater, Fla., MH-60 Jayhawk helicopter crew flew past the shoreline above a festive crowd gathered to watch a low-hover rescue swimmer demonstration in support of the all-volunteer Bahamas Air Sea Rescue Association's 44th Annual Bernie Butler Swim Race held on Coral Beach, Grand Bahama Island.  The rescue swimmer demonstration is a key attraction for spectators each year as it highlights the U.S. Coast Guard's support of BASRA in its ongoing commitment to saving lives at sea.  During the U.S. Coast Guard demonstration, CDR Kurt Kupersmith and co-pilot LT Lewis maneuvered the helicopter only 150 yards from the beach.
For the mock rescue demonstration, the U.S. Coast Guard helicopter hovered 30 feet above the water, allowing Coast Guard rescue swimmer AST2 Caraballo to descend into the ocean where he made the short swim ashore.  Cheering spectators took photos of the swimmer in action before he returned to the recovery location.  Flight mechanic AMT2 Arner then lowered a harness for Caraballo waiting below, and hoisted the rescue swimmer to safety.  The mock at-sea rescue by the U.S. Coast Guard Jayhawk helicopter crew demonstrated a part of the U.S. Coast Guard's role in Operation Bahamas and Turk & Caicos (OPBAT), a trilateral counter-drug partnership between the United States, The Bahamas and the Turks & Caicos Islands to combat the flow of illegal narcotics throughout the region.
Since 1960, BASRA Grand Bahama has held the swim race to defray the maintenance of its rescue boats and volunteer aircraft.  BASRA volunteers work closely with Bahamian law enforcement agencies throughout the Bahamas' archipelago.  BASRA responds to a number of emergencies ranging from airplane crashes to vessels in distress.  The non-profit voluntary organization has located thousands of boats reported missing, saving countless resource hours in unnecessary search and rescue efforts for vessels safely moored in a local marina or anchored in one of the many pristine anchorages in the Bahamas.
For additional information or to join BASRA Grand Bahama, contact 1-242-359-4888.
Captions: The United States Coast Guard Air Station Clearwater, Fla., MH-60 Jayhawk helicopter crew participate in at-sea rescue demonstration during the Bernie Butler BASRA fundraiser on Grand Bahama.  (Photos provided courtesy of Derek A. Carroll for Beyond Graphx).