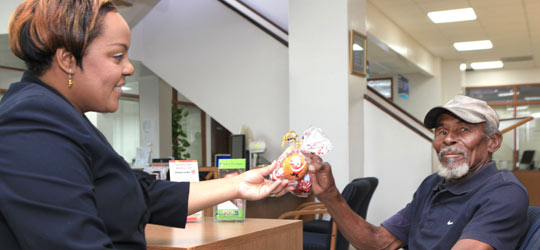 In a year of lingering economic challenges, one bank opened the doors this week with staff singing a bright and sunny tune, livening up the lobby with a holiday welcome and song of appreciation to seniors.
It was the staff at Harrold Road who went the farthest in the bank network-wide tribute to seniors — an idea prompted by the desire to let seniors know they are special.
"We wanted to do this on the day that the most seniors come into the bank in person," said Deputy Managing Director Renee Davis. "This gives us an opportunity to let our precious pearls know they are appreciated. Staff members in each branch decided how they wanted to show their appreciation." At Village Road, it was gift bags; at Harrold Road it was song and hugs and totes and more. And so it went throughout 12 branches in The Bahamas.
By next year this time, there will a 13th in the country. The flagship branch on Carmichael Road is due to open by the end of the first week in December.
Harrold Road Manager Byron Miller said the tribute signalled the start of the holiday season for many.
"Paying tribute to seniors," he said, "never gets old."
Diane Phillips and Associates
(Photos by Roland Rose for DP&A.)

Caption top photo: Christmas comes early for seniors at BOB —  Retired gardener Alpheus Wright, 78, gets special treatment and a little holiday cheer from BOB Harrold Road Branch Ambassador Tamari Ferguson as part of the bank's tribute to its senior clients this week. (Photos by Roland Rose for DP&A.)