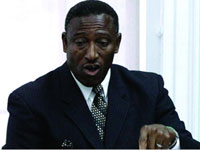 Agriculture and Marine Resources Minister V. Alfred Gray said yesterday that Cabinet rejected the expansion of the grouper season to January 1.
Gray was approached by the Bahamas Commercial Fishers Alliance to expand the season after the group said its members lost money when they were unable to fish as result of Hurricane Sandy.
Grouper season is closed from December 1 to February 28, when spawning mainly takes place.
"Cabinet has decided that it is not going to extend the open season, it will close on December 1, as it has been doing for years," said Gray outside the House of Assembly.
"Instead, I now have to look at another means of assisting the fishermen. If they can prove their losses the government will be willing to give them what we consider to be some financial assistance, and that will perhaps in some way compensate them for their losses which they would have sustained during the hurricane.
"I've decided that instead of them losing on the grouper because they can't catch, let me just consider giving them some financial assistance if they can prove their losses.
"So in a way the government is still trying to help them, but it will not help them by extending the open season on the grouper."
Gray said fishermen can apply for assistance at the Ministry of Agriculture at anytime.
Members of the Bahamas National Trust (BNT) said previously that adding another month to the grouper season would directly place the future of the species in jeopardy.
The group has called for a fixed season to be reflected at a policy level.
Gray said currently there are regulations that include a fixed period for closure of the grouper season.
"The regulations have been amended to include a fix period for closure," said Gray.
"If the government had agreed to [extend the season], we would have had to give an executive order to amend it for this year, so that if it's breached you can be charged in the courts."
By Travis Cartwright-Carroll
Guardian Staff Reporter