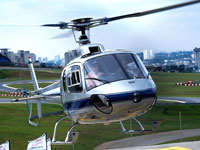 A helicopter crashed Thursday in an upscale Bahamas resort community, killing one U.S. citizen and injuring four others, police reported.
Abaco Police Superintendent Noel Curry said all five people on board were Americans. He did not release the identities or genders of anyone and declined to comment on their injuries.
Livingston Marshall, spokesman for the exclusive Baker's Bay Golf & Ocean Club on Great Guana Cay, said the pilot died in the crash.
"The four surviving passengers were evacuated from Baker's Bay and are currently receiving medical attention," Marshall said. He added that he had no information on their conditions and didn't say where they were taken.
He declined to release the names of the five people who were on the helicopter.
A Florida television station, CBS Miami, reported that one of the injured was Jeffrey Soffer, principal of Florida-based real estate developer Turnberry Associates.
Renardo Curry, Parliament member for North Abaco, said the helicopter was attempting to land at Baker's Bay when a wind gust sent the aircraft spiraling.
An employee of the resort community told The Associated Press that he helped residents pull people out of the wreckage. He described the crash as a "nightmare."
"They got into an air pocket and it went into a tailspin. It recovered, and then it went into a tailspin again and from there it hit the ground. The tail came off and the cabin just went into a spin and somebody got thrown out," said the Baker's Bay employee, who insisted on not being quoted by name because he wasn't authorized to speak with journalists.
Baker's Bay is a playground for millionaires located about 150 miles off Florida's eastern coast. It includes an oceanfront golf course, a private family beach club and boutique shops.
There were roughly 180 people on the island property for Thanksgiving festivities, the resort employee said.
Marshall said the Baker's Bay community was "shocked and saddened by this tragedy occurring on a day that symbolizes family and togetherness."
Curry, the police superintendent, said residents of the community, including several doctors and nurses, flocked to the crash site to help.
"Everyone who was there in one way or another helped out," Curry said.
By the AP Press Newsline