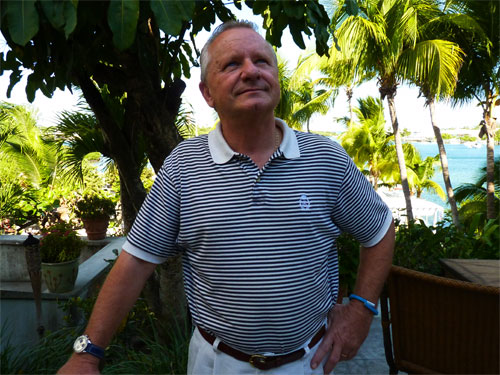 Hope Town Harbour Lodge announced the appointment today of veteran luxury hotelier Allen Davis as manager of the historic property that was purchased in June 2012 by a group of Bahamian investors.
"We are very pleased to announce the appointment of Allen Davis, a man who, over a career that spans five decades, has had vast experience at high-end hotel and restaurant properties in The Bahamas, Europe, the Caribbean and the United States," said Peter Andrews, President. "Allen has worked at hotels in Switzerland, France, British Virgin Islands, in The Bahamas and the US. While he jokes that he has been a bellman, busboy, waiter, and more, the reality is that he has had a wide range of experiences including management at 5-star properties that prepared him to take the reins and oversee the renaissance of this little gem of a Family Island resort that consistently ranks #1 in Hope Town on TripAdvisor.com."
Davis began his career at age 13 with a job in the Hotel du Palais, Biarritz, France, the former residence of Napoleon. Through hard work even as a teen, he moved steadily up, accepting a job at the Cafe de Paris, then moving on to the 5-star Palace Hotel in St. Moritz before spending seven years at Hyatt 4-diamond properties, including the Hyatt Regency Grand Cypress in Orlando, also 5-star and the Park Hyatt in Chicago. He held positions in Barbuda, on a private island in the British West Indies and in The Bahamas at three locales – the Lyford Cay Club, Cat Cay in the northern Bahamas and at the Dunmore Beach in Harbour Island.
The hospitality veteran joins the 25-room Hope Town Harbour Lodge as it undergoes a common areas renovation. Built originally as a retirement home for a British brigadier in 1947 and opened nearly 50 years ago as a three-room hotel, the lodge sits on a hill overlooking the famed Elbow Cay red and white striped lighthouse and the Sea of Abaco.
Often referred to as an inn for its intimate feel despite its broad lawns and a popular choice for weddings, honeymoons and community events, Hope Town Harbour Lodge has consistently ranked best in places to stay on Elbow Cay. Frommers recently credited it for its food, noting "this hotel's dining options are still winning new friends." Mr. Davis' appointment is effective immediately.
Diane Phillips and Associates
Caption: Looking up — Things are looking up for Hope Town Harbour Lodge, the popular landmark hotel on quaint Elbow Cay in Abaco. Last year, it announced new all-Bahamian ownership and today, they announced a new manager, veteran hotelier Allen Davis whose career has taken him from 4-diamond and 5-star properties in the U.S., France and the Caribbean to local management positions at the Lyford Cay Club and Cat Cay in the northern Bahamas before joining Hope Town Harbour Lodge.