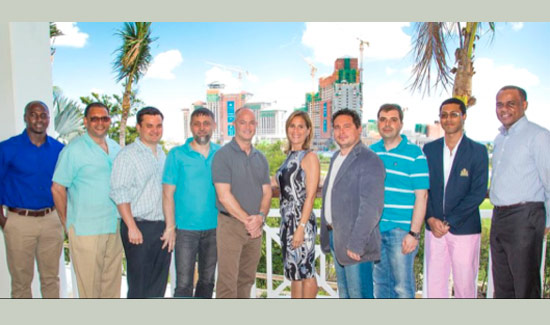 Baha Mar recently hosted Tez Tour, one of Russia's leading tourist companies, at its Royal Blue Golf Clubhouse.
During the visit, Tez Tour met with Baha Mar executives including Denise Godreau, chief marketing officer; Vaughn Roberts, senior vice president of Finance and Corporate Alliances; Robert Sands, senior vice president of Administration and External Affairs, and Gena Conroy, vice president of Residential Sales and Marketing.
The group toured the construction site and the Jack Nicklaus Signature Design Golf Course to get a firsthand look at the scale and amenities at the $3.5 billion resort. Tez Tour specializes in bringing tourist groups from Russia and neighboring countries to destinations around the world including Cuba and the Dominican Republic.
"Marketing Baha Mar effectively and accessing high potential markets such as China, Latin America and Russia is how we will transform the Bahamian tourism industry," Chief Operating Officer at Baha Mar, Paul Pusateri, said. "Attracting award-winning tourism partners such as Tez Tours can bring a greater number of tourists to Baha Mar. It's not just a win for the resort; it's a win for The Bahamas."
Caption: From left are Brad Miller, brand specialist, Baha Mar Ltd.; Robert Sands, senior vice-president of Administration and External Affairs, Baha Mar Ltd.; William Tervo, director of leisure sales, tour and travel, Baha Mar Ltd.; Alexandr Burtin, general manager, Tez Tour; Jurgen Stutz, vice president of sales, Americas at Melia Hotels International; Denise Godreau, chief marketing officer, Baha Mar Ltd.; Juan Carlos Pichs, director, Tez Tour of Spain and the Caribbean; Zurab Dzhaparshvili, managing director, Tez Tour; Tristan Sahnoune, Rosewood associate, and Vaughn Roberts, senior vice president, finance and corporate alliances at Baha Mar. PHOTO: BAHA MAR