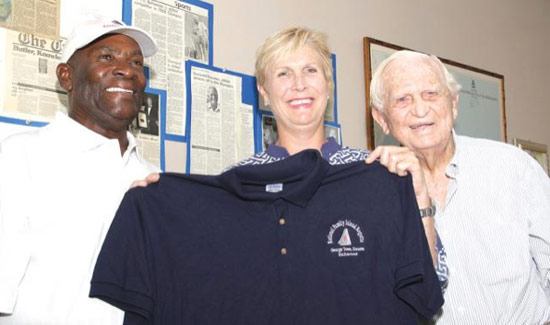 Outstanding philanthropist and humanitarian Sir Durward Knowles donated a number of top quality shirts to fire victims in Abaco recently. Sir Durward, who was the recipient of the shirts from Family Island Regatta Commodore Danny Strachan, gave the shirts to his daughter Charlotte who is helping the fire victims in Abaco.
Strachan, who sells the shirts during the annual Family Island regatta, had an abundance of shirts left over from the recent national regatta in George Town, Exuma, and offered them to Sir Durward. According to Strachan, Sir Durward normally can find something to do with them and this year he knew that his daughter Charlotte was helping the victims of the recent fire in Abaco.
"We are normally receiving during our annual family island regatta and Sir Durward has always helped us," said Commodore Strachan. "This year we decided to give him all of the excess shirts that didn't sell because we know he always have some cause that he's helping. It just so happens that his daughter Charlotte is assisting the victims of the recent fire on the island, so this came in perfect time."
Sir Durward's daughter Charlotte Knowles is assisting some of the victims of the fire through one of their businesses on the island, so when she informed her father of their need, Sir Durward decided to give the shirts to her to distribute to the victims.
This year, Sir Durward who is considered one of The Bahamas' most outstanding philanthropists and humanitarians, is celebrating 50 years of winning the first ever Olympic gold medal for the country. That gold medal was won in the star class in sailing at the 1964 Tokyo Olympics.
A number of events are planned by the government and the Bahamas Olympic Committee (BOC) for this year. The plans culminate with a gala banquet and tribute on October 23. The Bahamas Independence celebrations will be the start of some of the events planned.
Caption: Sir Durward Knowles recently donated a number of shirts to fire victims in Abaco. He got the shirts from Family Island Regatta Commodore Danny Strachan, and gave them to his daughter Charlotte, who is helping the fire victims in Abaco. From left are Strachan, Charlotte Knowles and Sir Durward Knowles. PHOTO: DEREK SMITH