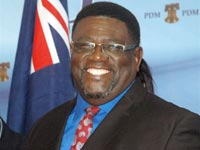 Leader of the Peoples Democratic Movement (PDM), Oswald Skippings, has asked for a recount of the votes for "at large" candidates in last Friday's election in the Turks and Caicos Islands. According to the Governor's Office, this will take place on Monday in Grand Turk.
When the count concluded in the final district seat in the early hours of Saturday morning, the Progressive National Party (PNP) had won six of the ten districts and the PDM four.
However, the counting of votes for the five "at large" candidates was delayed until late Saturday afternoon, the reason for which was said to be the number of voters in one election district, and that each individual ballot paper had to be read aloud and shown to all of those present at the count.
Six election staff will be brought to Grand Turk on Monday morning to assist with the speed of the recount. One of the issues identified was that there was one single count on Friday and Saturday. The ballot will be recounted by eight counting teams concurrently.
The provisional standings that are being challenged are as follows:
1. Sharlene Cartwright Robinson – PDM – 3,427 votes (provisional)
2. Rufus Ewing – PNP – 3,252 votes (provisional)
3. Derek Taylor – PDM – 3,191 votes (provisional)
4. Washington Misick – PNP – 3,107 votes (provisional)
5. Josephine Connolly – PDM – 3,023 votes (provisional)
6. Carlos Simons – PNP – 2,899 votes (provisional)
7. Samuel Harvey – PDM – 2,896 votes (provisional)
8. Oswald Skippings – PDM – 2,894 votes (provisional)
9. Wayne Garland – PNP – 2,806 votes (provisional)
10. Royal Robinson – PNP – 2,700 votes (provisional)
11. Oswald Simons – IND – 233 votes (provisional)
With the PNP capturing six of the ten district seats, if confirmed after recount this would take the number of seats secured by each party in this election to:
• PNP – 8 seats
• PDM – 7 seats
There was an overall voter turnout of 84 percent.
However, Akierra Missick, who won the Leeward Provo seat for the PNP by only 32 votes may face disqualification due to her dual citizenship. She was born in the USA of TCI parents but filed as having been born in Grand Turk. Later, when this was revealed, she said it was an error and has reportedly taken steps to renounce her American citizenship. She had registered to vote in the US in 2008 and maintained a voter registration card for the 2012 election.
The election was contested by 37 candidates, drawn from three political parties and two independents.
There are 19 seats in the House of Assembly, with 15 being directly elected and the other four appointed by the governor, of which two are nominated by the premier and the leader of the opposition respectively. Ten of the seats are elected in single member constituencies and five seats are "at large".
By Caribbean News Now!