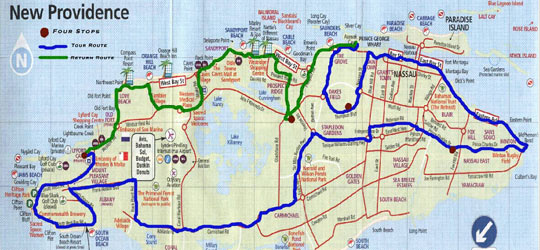 For seven hours throughout the day Thursday, some 40 rare and exotic race cars will roar through New Providence at speeds of over 100 mph with thousands of spectators expected to pour out of schools, offices, homes and hotels to watch the parade of power, beauty and prowess.

The event, dubbed the 007 Island Tour, is the first opportunity for Bahamians to see local and foreign cars gathered for Bahamas Speed Week 2012 at top performance speeds. The series of events kicks off Wednesday with an official opening, complete with Le Mans start — each driver jumping into his or her car for the start — and the Governor General and event patron Sir Stirling Moss leading the ceremonial lap. The opening is set for 11 am at Arawak Cay.
On Thursday, the parade of power begins at Arawak Cay with multimillions of dollars worth of exotic cars streaming, heading south through Chippingham and the Grove to stop first at the Oakes Monument. The route then takes them to Thompson Boulevard where the next stop is at the Shell Service Station, north again on Nassau Street to the waterfront and east along Bay Street all the way past Montagu, continuing along Eastern Road to Eastern Point, turning west at McPherson's Bend by Winton Highway, continuing west along Prince Charles with a stop at the intersection of Fox Hill Road. From there the tour continues west passing East West Highway, going on to Independence Drive, Tonique Williams- Darling Highway and turning south onto Milo Butler Highway for a long, fast stretch of open road, a slight north turn at Rock Plant Road, past Albany and on to Lyford Cay where the cars will be judged in the Concours d'Elegance, one of the highlights of the series of Speed Week events.
Following a luncheon for drivers and sponsors hosted by a driver who is also a club member, the cars will hit the road for the return trip, taking West Bay Street past Old Fort Bay, Love Beach, Sandyport, turning south onto Prospect Ridge, stopping at Premier Cru, Bristol Cellars, top of the hill at the intersection of Gladstone Road and heading back north to Saunders Beach to finish at the car paddock, Arawak Cay by 4:30 pm.
"We know that from years past when the original Speed Weeks were held in Nassau from 1954-1966, teachers looked the other way as students poured out of schools and every boss who wanted happy staff allowed them to take a break and watch the cars whiz by," said David McLaughlin, Bahamas Speed Week Director. "The cars we have this year are even more extraordinary, partly because they are becoming more and more rare so we hope that the spectator crowd will be large. We know they will be thrilled."
Cars will compete on Saturday and Sunday with a Fort Charlotte hill climb and time trials on Saturday and side-by-side racing Sunday, with four cars at a time along widened roads at Arawak Cay and out to the northwest point where Arawak Port Development container port is based, allowing for a 1.6 mile circuit, a third longer than Speed Week 2011. Bleacher seats are available at BahamasSpeedWeekShop.com and Paddock Club or special event tickets through 394-0677. Local karters will interact with the 18-member Formula Kart Stars team from the UK throughout the weekend as the Kart Stars put on demonstrations to help revive karting in The Bahamas. The first world championship of karting was held in Nassau in 1959 and this week's visit by the UK team with school visits by the young drivers has reawakened interest throughout the island.
Diane Phillips and Associates
Road Tour Map
Map shows 51.5 mile circuit of Bahamas Speed Week cars on the 007 Road Tour, starting at 9:30 a.m. this Thursday at Arawak Cay and running for seven hours with four stops, hitting speeds well over 100 mph with police clearing traffic just ahead of them for brief road closures and enough excitement to bring thousands out to watch from schools, offices, homes and hotels.