Operation Potcake
December 21, 2012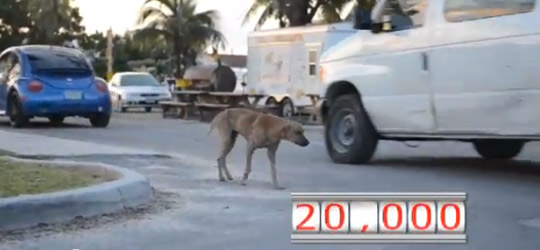 "Potcakes are the best security there is," said the young man at the gas station this morning as I filled up on my way to work. Then, as I bought my paper, the paper boy called out, "Unconditional love!"
Both were responding to the Operation Potcake magnets I now have on the doors of my car.
The man at the gas station also observed that there were too many potcakes running about and that they need to be spayed and neutered.
I agreed, and then explained to him that Operation Potcake was going to be doing just that, free of charge. From January 10 to 14 and January 17 to 21, Operation Potcake will offer a 'Free Fix', spaying and neutering up to 2,000 dogs on the island of New Providence.
More than 100 volunteers will be donating their own time and money to fly in from places as far away as Norway to help many local volunteers with this campaign. Supplies are being gathered, locations have been determined, questions are being asked.
One frequent question we hear is, "Why should I have my dog spayed or neutered?"
Many Bahamians believe a female dog should have at least one litter of puppies in her life, or think that neutering their dog somehow affects the way the world views them. Neither of these is true. A spayed female dog will live a longer, healthier life with a greatly decreased chance of mammary cancer.
A neutered male dog will be at less risk for testicular or prostate cancer and has no emotional attachment to his testicles.
By spaying/neutering household dogs, those dogs will live healthier lives.
Yard dogs will stay in their own yards, providing that awesome potcake security.
Street and community dogs will be healthier and will help to contribute to an overall healthier stray population.
Operation Potcake is the launching campaign for the Veterinary Medical Association's Five Year Plan where the aim is to spay and neuter another 3,000 dogs per year over five years. Eventually, the stray dog population on New Providence, currently estimated at 20,000, will be more controlled.
Potcakes are loyal, smart, and beautiful dogs. They deserve proper care and attention, in return for which they will offer us unconditional love and the best security in town.
For more information about Operation Potcake call the hotline on 356-5138 or check us out on Facebook: www.facebook.com/OperationPotcake.
By LINDA GILL-ARANHA