Prosecutors Seek Media Block In Murder Case
December 13, 2012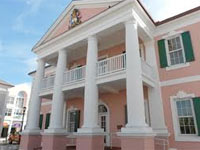 Prosecutors in a 13-year-old murder case awaiting retrial were expected to make an application Tuesday before a judge asking for certain aspects of the trial to be exempted from media coverage.
During a hearing on November 28, the prosecution raised concerns about recent reporting on a case in which Stephen "Die" Stubbs, Andrew "Yogi" Davis and Clint "Russ" Evans are accused of the murder of an off-duty policeman.
It is claimed that on March 13, 1999, the three men murdered Corporal Jimmy Ambrose.
The prosecution claimed media had mis-reported some of the facts.
It was argued that if not dealt with, such mistakes could have a prejudicial effect on the jury.