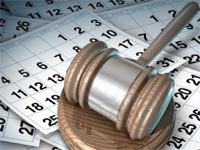 A mistrial was declared in a high-profile case in which a man is accused of kidnapping and sexually assaulting a 12-year-old boy.
On discovery that one of the nine jurors is related to the complainant, in the interest of fairness, presiding judge Senior Justice Jon Isaacs discharged the jury and ordered that 38-year-old Kohfe Goodman be retried.
It means that Goodman of Yorkshire Drive will have to return to the Supreme Court on May 12, 2014 to stand trial again on charges of kidnapping and unlawful sexual intercourse with a minor.
Prosecutors alleged that the accused, on August 17, 2011, abducted a 12-year-old boy from Augusta Street and had sex with him.
The 12-year-old boy, who cried as he was brought to court by a prosecutor and "watching brief" lawyer Glendon Rolle, also gave evidence on Monday, telling the court that he was sexually assaulted by a man who forced him into a car in the street, drove him past Cable Beach and sexually assaulted him on a bare mattress in the apartment bedroom.
The judge told Goodman that his remand to Her Majesty's Prison remained in effect.