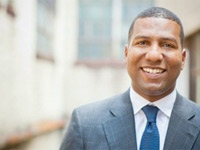 Century-old provider of commercial real estate services will transition CEO role in anticipation of next phase of company's growth. The Beck Group announced that CEO Peter Beck assumed the position of executive chairman focusing on marketing, strategy and international operations as of January 1, 2013. Fred Perpall, who most recently served as The Beck Group's Managing Principal and Director of Design of the Eastern Division, has been named the new CEO.
Periodically, The DS3 Group shines a spotlight upon members of the community making great professional strides and serving as inspiration for entrepreneurs and young adults. Perpall, age 38, serves as just the fifth CEO in The Beck Group's 100-year history. Marking the first step in a multi-year transition, Perpall's appointment carries on the firm's tradition of promoting CEOs in their mid-30s. The Beck Group's transition strategy allows new CEOs to work in partnership with their predecessors for a decade or more, enhancing the firm's culture that reflects an obsessive commitment to its employees and customers.
"Our goal is to position ourselves for growth at the beginning of our next century," said Peter Beck. "We believe that promoting leaders with most of their careers ahead of them ensures the vitality and success of the firm. I look forward to working collaboratively with Fred for many years."
In his new role, Perpall will lead the company in continuing to integrate multiple building disciplines and leveraging innovative technologies to deliver superior value to customers. "Peter and I have enjoyed a great working relationship for the past 13 years," said Perpall. "I look forward to our continued partnership as we build upon the past and create a bright future for the firm."
Named one of Georgia's Top 40 under 40 in 2011 by Georgia Trend Magazine, Fred is a native of the Bahamas educated at St. John's College, the College of the Bahamas, University of Texas at Arlington and Harvard Graduate School of Design. Fred's career at Beck has included a broad range of projects including higher education, religious, athletic, recreational, sustainability and healthcare in domestic and international markets. He has also led the company's expansion into the Caribbean bridging his international experience with domestic needs in the Bahamas and Caribbean at large.
Acclaimed projects under his company's management include The Princess Margaret Hospital, the College of the Bahamas, the Bay Rec Condominiums in Nassau, Bahamas, the Nassau International Airport and the Commonwealth Bank Headquarters and Branch Building in Nassau, Bahamas. Perpall is a member of Alpha Phi Alpha Fraternity. Congratulations to Fred on this exciting chapter of his career. He and his wife Abi currently live in Atlanta with their two daughters, Ava and Ali.
The Beck Group Fred Perpall
Founded in 1912, The Beck Group offers a full spectrum of commercial professional services including development, planning, architecture, interior design, construction and sustainability consulting. The company is headquartered in Dallas, Texas, and maintains a national team of over 500 employees, who work among a network of offices in Atlanta, Austin, Denver, Fort Worth, Mexico City, San Antonio and Tampa. The firm's notable projects in recent years have included the Centers for Disease Control and Prevention in Atlanta, Georgia; Nasher Sculpture Center in Dallas, Texas; Michael W. Krzyzewski Center for Athletic Excellence in Durham, North Carolina; Museum of Contemporary Art in Los Angeles, California; and the USF Health Center for Advanced Medical Learning and Simulation (CAMLS) in Tampa, Florida.
For more information, visit www.beckgroup.com.
By PJ Douglas Sands