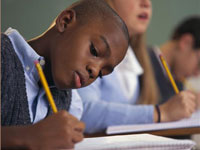 The Examination and Assessment Division of the Ministry of Education, Science and Technology held its annual National Awards presentation and exhibition under the theme "Rewarding excellence in National Examinations" to highlight The Bahamas Junior Certificate (BJC) and Bahamas General Certificate of Secondary Education (BGCSE) results for 2012 at the Church of God Auditorium, Thursday, Jan 17.
Abraham Lincoln, the 16th president of the United States of America is said to have declared, "You cannot build character and courage by taking away man's initiative and independence," said Minister of Education, Science and Technology the Hon. Jerome Fitzgerald as he addressed the students, teachers, parents and Ministry of Education Science and Technology staff.
"As I look across this auditorium, I realise that it is filled with people of character and courage, people who, buoyed by their independence, took the initiative to build The Bahamas in myriad ways, making it possible for Bahamian people to master their own responsibilities," Minister Fitzgerald said.
He told the audience that the auditorium is filled with people who are still building the nation, and young people, who have determined that they too have an active role to play in the shaping o this small, young but vibrant country.
"I want to stress that, especially between 1973 and 2013, the formal education system in The Bahamas has led, through the action of grace, to the revival, renewal and prosperity of its people. I see it as fitting, therefore, that as we gather here to celebrate the major academic accomplishments of our nation's youth in the national examinations, as well as the 20th anniversary of the BGCSE exams, we spend some time reflecting on where we have come from, where we are now and where we are going," Minister
Fitzgerald said.
He said the BGCSE is "twenty glorious years old" and applause is a must for the pioneers led by the late Paul Adderley, a former Minister of Education; Ms. Majorie Davis, former Director of Education and Mrs. Carol Hanna, former assistant Director of Education, for their vision courage and initiative.
"Here's another initiative. Today any Bahamian student who obtains five or more BGCSE subjects with C to A grades, including Mathematics and English, gets a scholarship to The College of The Bahamas", the Minister said.
Minister Fitzgerald  said just 39 years ago, in 1974, the  forefathers' vision and initiative led to the birth of COB, an institution whose credits are accepted by more than 200 respected institutions in Britain, Canada, the Caribbean, and the United States. He said the modern day Bahamians have now embraced the legacy and are taking the College to another level to the University of The Bahamas.
By Stirling Strachan
Bahamas Information Services