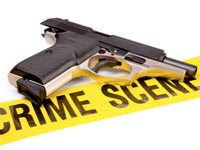 Volunteers who travelled to the Bahamas to help with the Operation Potcake spay and neuter programme were held up at gunpoint and robbed.
The small group of United States residents were at CR Walker school on Baillou Hill Road behind Government House.
They were caging dogs to be treated during phase two of the operation which is run by animal support groups including Bahamas Humane Society (BHS).
Not long after arriving at the school at around 8.30pm on Wednesday the volunteers were held up by three men armed with guns. The culprits made off with money, cellphones and cameras.
Kim Aranha, BHS president, said the majority of the volunteers returned home yesterday morning as they were scared for their lives.
She said they now view the Bahamas as a country where visitors are not safe or can be protected.
"These people were doing something for this country out of the goodness of their hearts, and this is what they got in return? It is just sad," she said.
Royal Bahamas Police Force described the attack as unfortunate. Concerns have been raised that the robbery could have been avoided if police officers had accompanied the group.
Police Superintendent Stephen Dean said: "We met with the group when they first got here to speak with them on how they could protect themselves. We knew that officers were not going to be able to go everywhere with them.
"I want to point out however that it is rare that robberies happen in that area considering its close proximity to Government House. We are continuing investigations into what happened."
Officials at the BHS, who did not want to be named, claimed volunteers would not have been out at night had they known police would not be present.
As for Operation Potcake, Mrs Aranha said the BHS intends to stop all night trappings.
They have also made another request to authorities to have police officers stationed at all of their animal clinics in Nassau.
By KHRISNA VIRGIL
The Tribune