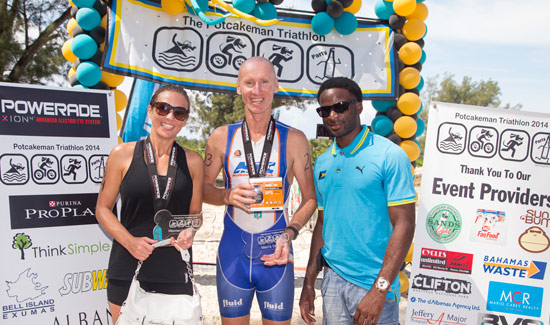 The second annual Potcakeman Triathlon was a thrilling morning at Jaws Beach on Saturday September 20th 2014. Over 200 participants took part in the 750m swim, 21km bike and 5k run or the shorter distanced 'puppy tri'.
Featuring chip timing sponsored by Purina, the first person over the finish line was part of the Freeport based team 'Executive Marine'. Kelly Kramp was crowned overall men's winner finishing with a time of 1:12:08 and newcomer Ashleigh O'Mahony won the women's division in 1:19:20. The new champions were presented with dog-bone shaped trophies plus an Ironman Watch donated from John Bull and a Kenneth Cole leather bag from The Shoe Village.
"We were so happy the weather was kinder to us this year, it was great conditions for racing' said race director Sarah Kennedy. "Once again we had more than 30 people completing their first ever triathlon which is a huge achievement and we want to encourage as many people as possible to get into the sport'.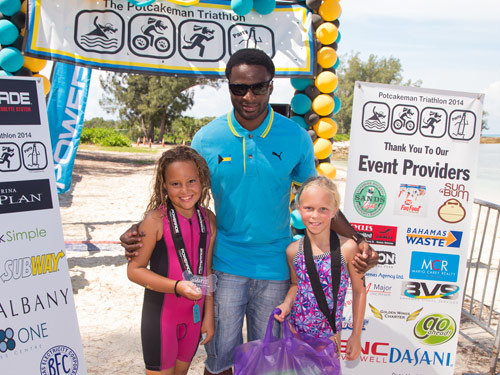 The forth discipline 'party' swung into action as finishers got to enjoy a refreshing Sands Light beer and kids a Dairy Queen dilly bar while they were entertained by paddleboard demos at the beach.  Winner Kelly Kramp said it was one of the most fun and best-organized races he has competed in.
Event sponsors also included Albany, Think Simple, ClubOne, Bell Island, Subway, PappaSurf, BEC, Golden Wings Charter and Mario Carey Realty. Thanks to their generosity 100% of athletes entry fees will be put towards Baark's spay /neuter and education programs. Race director Lori Roach said "Our race would not have been so successful without the local businesses who sponsored, provided for or donated to the event. Our volunteers were also amazing and integral to the event's success."
Karla Wells-Lisgaris representing presenting sponsor Powerade won her age division , female 20-29  "We at Caribbean Bottling Co. were thrilled to be apart of this event" she said" Not only is it an athletic event, encouraging Bahamians to go out there and be active, the proceeds go to an honorable organization. While animals are not consumers of our products they are a part of the wider community and contribute immensely to the quality of our lives in so many ways., We are happy to be able to support the  efforts to quell the population of uncared for strays and with the reintroduction of our sports drink PowerAde back in The Bahamas, the partnership is a natural fit".
"Golden Knight" 400m athlete Ramon Miller presented the awards noting how proud he was to support and be a part of local sporting events like these and may even consider a triathlon himself at some point.  A raffle draw concluded proceedings with the top prize of a Micargi Avant road bike donated by Cycles Unlimited.
More information be found out www.baarkbahamas.org
Potcakeman Triathlon Adult results