Kidney Center To Host Activities
January 16, 2013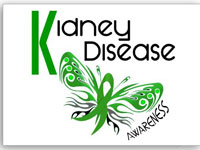 The Kidney Center of Grand Bahama is set to host a series of events leading to Kidney Awareness Month.
The activities, which include an eight-week wellness campaign and kidney walk, are all geared at bringing awareness of the disease to the Grand Bahama community.
Kidney Center Nursing Manager Kylie Turnquest-Moore said, "We are starting our eight-week wellness campaign that will lead into kidney month which is this March.
"We want to bring about an awareness of kidney disease to the community.
"We decided this year to do the eight-week campaign because a lot of people always asks us, "how do I get my kidneys healthy?"
Turnquest-Moore revealed that it is the goal of the center to give the people the tools they need in order to do live a healthier lifestyle and properly maintain their kidneys. "This campaign is our way of doing just that, in order for those persons to make those healthy lifestyle choices and have healthy kidneys.
" Our program is targeted at persons who want to make those changes particularly those that have hypertension and diabetes as they are the two leading causes of kidney failure.
"While our program wants to do weight loss we are also going to give people these tools that they can use for the rest of their lives.
"We are going about it a little different this year in that we will be actually showing people how to prepare meals, how to shop, the importance of exercise and as I stated we will be showing persons this as oppose to just telling them about it," she said.
According to Turnquest-Moore the center's kidney walk will take place on March 9, 2013 just as an add way of bringing awareness to people about kidney healthy.
She also encourages persons who are affected by kidney disease or know someone affected by it them to come out and show their support.
"We will also have our symposium which will be held on March 16, 2013 at Pelican Bay Resort," Kylie Turnquest-Moore revealed.
Clinical dietician at the center Jordan Bowe said, "During the eight-week program we have a variety of educational sessions primarily covering hypertension, diabetes, stress management along with looking at the entire body as it relates to being well and healthy."
Among the activities planned by the center is a dining-out week, which Bowe says will be a one of the great highlights of the program.
"The dining-out week will be very exciting for the participants because we will be going out to different restaurants both fast food and dine-in, taking the time to go through the menu and identifying those words that would indicate foods high in fat, salt and so forth.
"This is going to help participant be prepared whenever they do go to dine-out.
"Another activity will be our grocery store tour where we will actually be able to go through the aisles of Solomon's in the Seahorse Shopping Plaza and focus on which aisles are more important than others.
"We will also educate participants on what they should be looking for when they look at the labels of various products and also as a part of the program we will conduct weekly exercise sessions," she said.
According to Bowe the exercise sessions will be done twice a week on Tuesday and Saturday mornings beginning at 5:30 a.m. and they will be led by personal fitness expert Ravanno Ferguson.
"At the exercise session we will be monitoring participants progress, ensuring they receive the proper education going forth and dispel any myths surrounding maintaining healthy kidneys.
"Persons wishing to be apart of the center's program can call the Kidney Center or come to the center and sign up.
"Once persons come in we will be able to get all the information necessary and really get things started," Bowe said.
The program actually begin this Saturday January 19, 2013 at Christ the King Anglican Parish at 9:00 a.m. and this will be the center's way of getting persons motivated.
Bowe noted persons will be able to receive a calendar of events, gift bags and other material and this is all at a cost of $50.00 for the entire eight-week program.
By Sharell Lockhart
Freeport News Reporter