Bridal Show Returning To Grand Bahama
January 16, 2013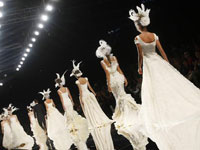 It's not new, but it has been missing in Grand Bahama, and now two businesses are bringing back a Bridal Show to Grand Bahama.
According to Pamela Hanna of Impressions and an Event Planner she and Quality Photography's Dayle Wilson were talking about coming up with an event for Grand Bahama when they came with up the 2013 Bridal Show, which is being held under the theme, "TO HAVE AND TO HOLD."
The event is expected to be held at The Grand Lucayan Resort on Sunday March 17, from 4 p.m. – 8 p.m.
They are hoping to get 40 vendors covering all aspects of the wedding industry, ranging from limousine service providers to honeymoon destination agents and everything in between, including wedding planners, invitations & programs, wedding dresses and tuxedos, wedding accessories, wedding cakes, venues, photographers, florists, bridal registries, caterers, party rentals, etc for this show.
Hanna said the goal of the show is to marry local wedding service providers with couples who are planning their weddings, by creating a truly "one-stop wedding shopping" experience.
"First we were thinking of an event for ourselves, but as we called around we found out that business has been slow for a lot of people overall" said Hanna.
"So we thought this was a good idea for us to do, just for the local market.
"We found that with most brides, when it's time for the wedding they go to Florida or New York or California because they think they can find better things for less price, but we say we have people here who have good stuff at good prices as well."
Hanna added that they feel this is a great opportunity for local businesses to get their businesses noticed, and they should take advantage of this exceptional opportunity to showcase their goods.
She further noted that such an event is also an opportunity for Companies and Organizations to get involved and show their continued support for local businesses, and at the same time encourage Bahamians to "shop at home."
She expects that they will have some fun and exciting things planned for everyone.

By Yasmin Popsecu
Freeport News Staff Reporter